In an "Around the World in 80 Comb" exhibition, author Jen Cruse shares her collection with the Creative Museum. Her presentation enunciates the stunning diversity of comb design across the world and across time.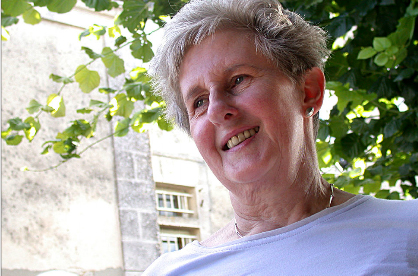 My favorite is this Chinese ivory comb, which depicts Shou Xing, the Chinese God of Longevity. He is part of the Taoist concept of Fu Lu Shou. Taoism dates back to the the Ming Dynasty (1368 – 1644), when the Han Chinese ended Genghis Khan's Mongolian rule.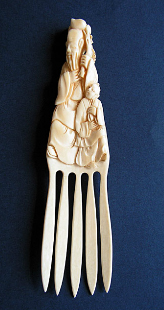 With a high bald head, Shou Xing smiles gently as he carries a branch with peaches of immortality from the garden of Xi Wang Mu. His small helper looks on. The comb is curved because it is made from the top of an elephant tusk.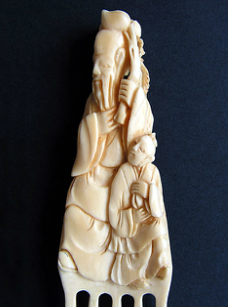 The peaches are visible on the back of the comb.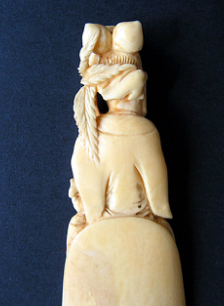 Other combs in the collection include this black Bonaz with gold plum flowers,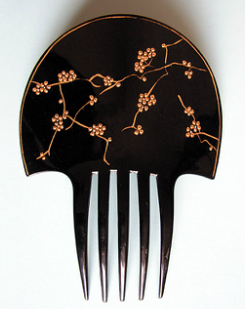 this celluloid Art Deco American comb with gold paint, whose blue is the same color as a Tiffany & Co. shopping bag,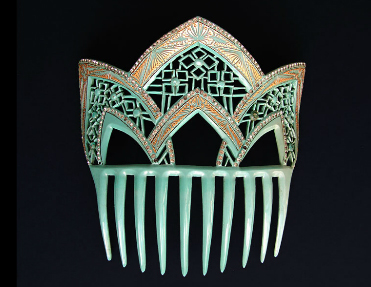 and a seed-pearl aigrette.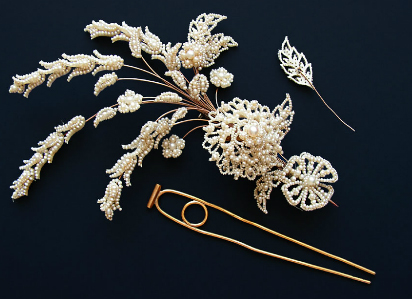 कंघी
For more scholarly research, please examine the publications of the Creative Museum and Jen's book