On E-bay, a monarch butterfly barrette made by Alexandre de Paris for Jean Paul Gaultier measures 5.5 inches long and 4.75 inches high: 3 to 4 times the size of other barrettes. Even though I feel the size was probably Gaultier's idea, Alexandre de Paris' couture designs innovate from sense of history.
This piece is special not only for its size, but for choosing to imitate plique a'jour enamel technique with modern acrylics.
Plique a'Jour (open to light) was developed in 14th Century France.
Translucent enamels were held in an open framework, which was made by soldering the metal pieces to each other. The framework could be removed after the enamels had cooled. It reached its peak during the art nouveau period, with the legendary jewelry of Lalique, Tiffany, and Faberge.
Here is a plique a'jour butterfly pin, c. 1900, from the estate of Jacqueline Kennedy Onassis. The gold and diamond frame sits atop red, blue, and green enamel.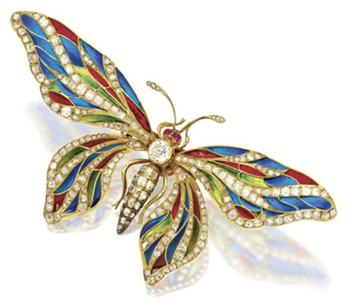 Here is Gaultier's version, made by Alexandre de Paris couture.