Ebay: David Andersen, Norwegian Jeweler
The plique-a-jour enamel top looks like a Tiffany stained glass window. It was made by Norwegian jeweler Arthur Andersen, c. 1924 – 1939. His father, David Andersen, started a gold- and silversmithing company in Christiania, now Oslo, in 1876. Arthur took over the company in 1901, when his father died, and put a hyphen in the name: David-Andersen. He also introduced plique-a-jour enameled silver pieces with amazing success.
This is a superb hair pin: magnificent technique, beautifully designed and proportioned, and brilliantly colored when backlit. The dealer is selling it for 1600 Euros on Ebay Germany.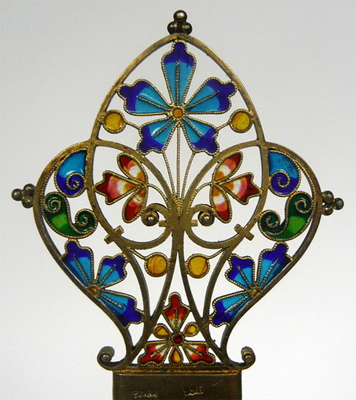 कंघी
For more scholarly research, please examine