As we take our steps from the online world to the real one, newspapers notice, too. La Charente Libre of Cognac, France, wrote an article on the Creative Museum's Tete a Tete exhibition at the Musée d'Angouleme on November 5th.
Everyone from around the world :-), please say hello to Catherine and Joel Olliveaud. What I see in this photo is Joel looking at the Creative Museum's headdress with his photographer's eye. Catherine, you are beautiful!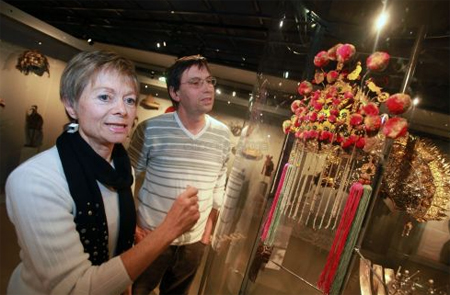 The article tells the story of a collection, which is really the story of a family, who had a serendipitous epiphany. They saw a few combs in their grandmother's wardrobe and devoted their lives to her legacy. Coincidentally, many combs are made to pay homage to ancestors, so that gives added poignancy to the Creative Museum.
From the article: "The idea of ​​the museum came to me after the organization of the exhibition 'Chinese and Japanese Hair Ornaments' at the Oisellerie Castle in La Couronne, France" said Catherine Olliveaud. "Many people told me that these objects were worthy of museums like the Musée Guimet in Paris. It gave me ideas. The advantage of the virtual museum is that it is accessible to everyone everywhere." The Creative Museum has visitors from 97 countries.