Marketing value for haute couture hair accessories is created because the pieces are hidden from public view. Exclusivity, not publicity, creates value. As Daphne Guinness says, "Once a celebrity wears something, it's already been done. I want something new."
Legal restrictions do not allow me to mention his name. I don't even know what it is. He and his wife divorced. However, one winter day in 1998, Jovy at the Alexandre de Paris store on 75th Street and Madison Ave. in New York City took some things out of a back drawer and said in a hushed voice, "Look at these." With my jaw on the floor, I bought the only comb.
Her face is jewelry-grade platinum. The Swarovski crystals on top are her hair, while underneath, they form her collar. The comb itself is modern acrylic plastic, made in France. I have to believe this is the first piece of his to be posted on the web. The photograph is mine.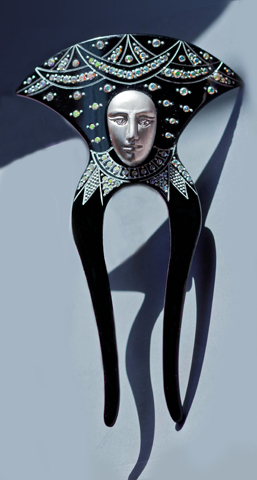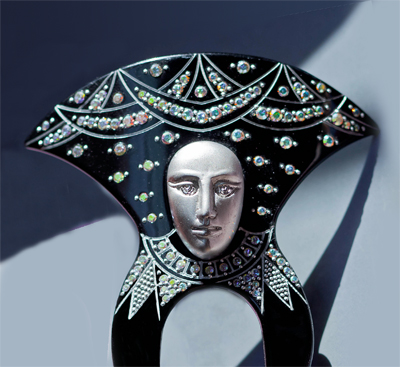 Costume Jewelry for Haute Couture
Kindle Store:
Classic Hollywood Designs
Fashion Jewelry: Catwalk and Couture