The comb in the photograph, a celluloid low back comb (simulating tortoiseshell), was bought in an Antique shop in Quebec City in 1995 for C$50 (£30). The decorative band along the heading, fixed to the comb by three rivets, comprises two clockwise pointing swastikas set with clear paste-stones, placed between three flower and leaf motifs of gilded metal, possibly aluminium.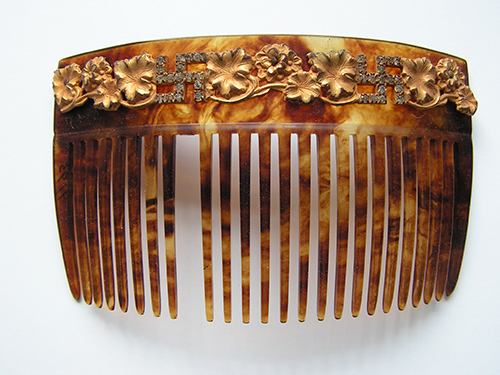 The Swastika, a cross in which the arms or bars (sometimes referred to as crampons) are extended at right angles, is a sacred symbol derived from Sanskrit, the language of the Aryan (Hindu) civilisations of ancient India, dating back at least 8,000 years. The motif is now regarded by many cultures around the world as a good luck symbol and an implied prayer for success and accomplishment. The four arms may either point to the left or to the right, the latter being the more familiar and in this form may have been based on a sun symbol representing the clockwise movement of the sun.
The motif (with clockwise arms) was adopted by Hitler as an emblem of the Nazi Party, and incorporated into the German national flag from 1935 to 1945. Consequently it became a symbol of oppression in the countries occupied by Germany during the Second World War and was often called the "crooked cross".
Occasionally combs are encountered that carry the swastika symbol as part of the decoration. The connection between this comb and the wearer is uncertain; it may allude to a Nazi supporter or a patriotic emigrant, or on the contrary, to one who has escaped the Nazi tyranny. The comb in this case is most probably American made, sometime during the first quarter 20th century, with the decoration added at a later date. Could it have been a commemorative piece?
कंघी
For more scholarly research, please examine our Resource Library and