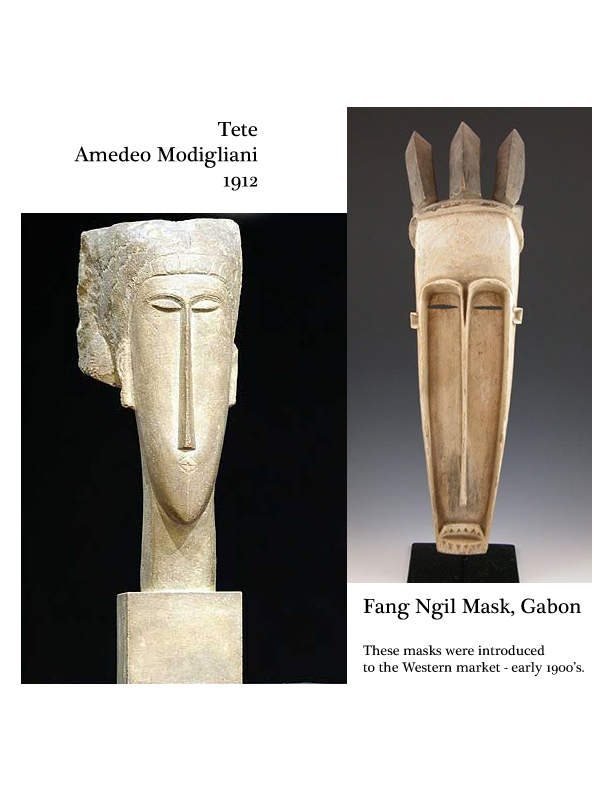 Romanian-born sculptor Constantin Brâncuși introduced Amedeo Modigliani to African sculpture. African masks' simple forms, bold lines, and open designs deeply influenced Modigliani. Their tendency to elongate certain facial features also fit in with French Symbolist ideas of the time.
After exhibiting some sculpture at the Salon d'Automne in 1912, including Tête, Modigliani devoted himself solely to painting in 1914. However, his faces still had the structure of his sculptures. On June 14, 2010, Tête sold at Christie's for $52.6 million.
Perhaps the masks that fascinated Modigliani were the Ngil masks of Gabon's Fang People. The Fang are one of 20 ethnic groups of the Beti-Pahuin peoples, who live in the rain forests of Cameroon, Congo, Equatorial Guinea, Gabon, and São Tomé and Príncipe.
Ngil masks are painted white, with facial features outlined in black. They are sometimes called gorilla masks. Ngil is the name of a male society, as well as the name of the mask itself. The members of this society initiate new members and persecute wrong-doers.
The masks are large and covered with kaolin, a clay mineral. The face is usually heart-shaped with an elongated, fine nose. Ngil society disappeared with the beginning of the colonization of Gabon in the early 1930's.
Can one ever be sure of an artistic connection? Rarely, but we know Japanese art combined with French Symbolism produced Art Nouveau. Perhaps one artist took a different path into the heart of Africa?
मास्क
For more scholarly research, please examine