Have you ever wondered which tiara would partner best with an haute couture evening gown? As the Fall-Winter collections of 2013-1014 were presented in Paris, I could only envision tiaras with the creations of Elie Saab.
Refined elegance shimmers, as his embroidered chiffon and satin gowns grace the runway in a panoply of colors. Saab's goal is to relate couture to the modern world. I chose 5 gowns: 2 from last year, 3 from this year, and paired them with a tiara or hair comb. You can pick your favorite in the poll underneath all of the descriptions.
1.
This teal blue gown from 2012 is embroidered throughout. A high collar contrasts with a low back. I felt the two enamel peacock feathers on the famous Child & Child tiara would add solidity to contrast with the open, embroidered fabric of the dress.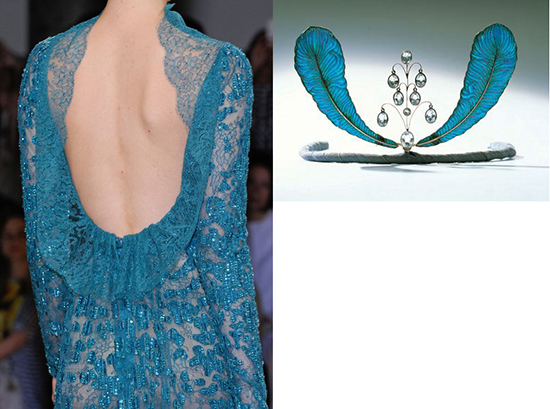 2.
This peach gown, with a combination of embroidered and painted gold abstract shapes, also comes from Saab's 2012 Autumn collection. I chose the hair comb from the Bagration Parure, c. 1810. A fabulous confection of pendaloque pink-salmony spinels and diamonds were mounted onto gold. It was attributed to Fossin & Fils, a predecessor of the French jeweler Chaumet. The parure originally belonged to Princess Ekatarina Pavlovna Bagration, wife of Prince Pyotr Ivanovic Bagration, a descendant of the Bagration Kings of Georgia. Prince Pyotr died fighting Napoleon at the Battle of Borodino in 1812.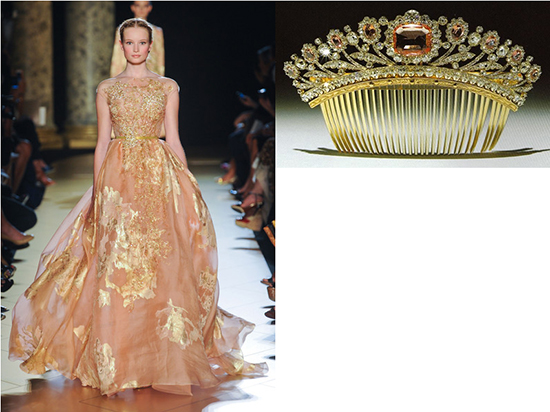 3.
Although shimmering crystals have always been a theme of Elie Saab gowns, 2013 brought structurally shaped examples to his collection, such as this red gown with horizontal, diagonal, and vertical elements. To go with it, I chose this Cartier aigrette tiara with a horizontal band and vertical-to-diagonal plumes of diamonds. It was purchased by Lord Derby in 1913.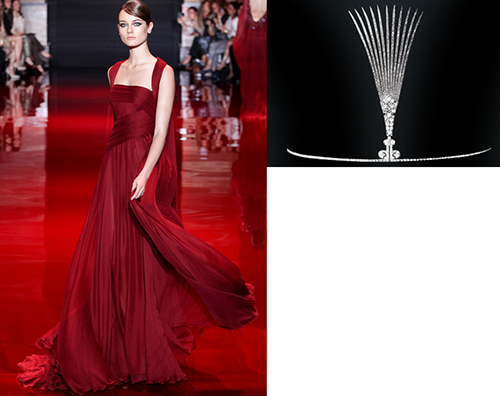 4.
In the 2013 collection, Saab also showed some embroidered satin gowns that struck a balance between structure and decoration. To compliment this green example, I chose a Belle Epoque Tiffany & Co. tiara, c. 1905. The gold openwork frame was architecturally designed, and it was decorated with cabochon- and pear-shaped-emeralds.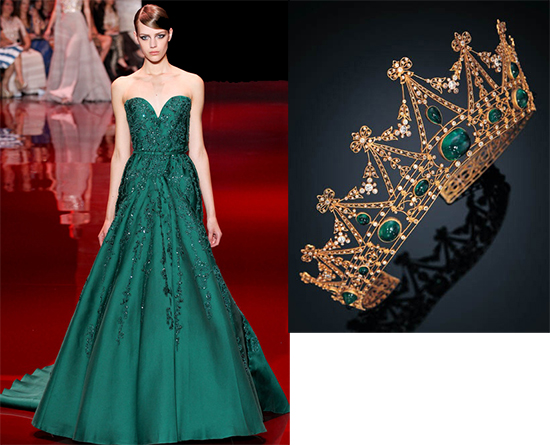 5.
Finally, a navy blue one-sleeved gown with a fully embroidered top and chiffon skirt. In the past, Saab has done two layers of embroidery. This year, to simplify, his decorations were not overly intrusive. I paired the gown with David Morris's one-of-a-kind Butterfly diamond tiara, which has approximately 35 carats of round and pear-shaped diamonds (color grade F) set in gold. The decoration is detachable from the modern bandeau.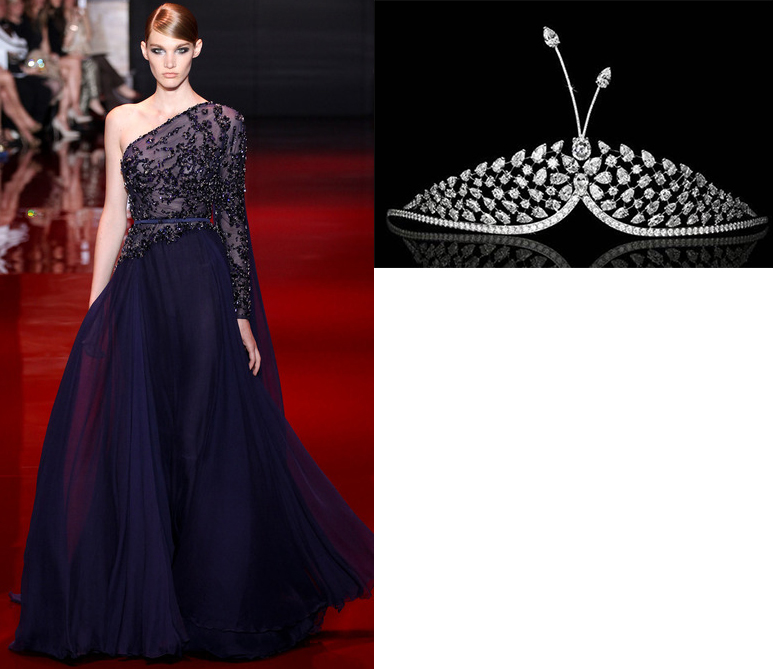 [socialpoll id="2174289″]
For more fashion and jewelry research, please examine our Resource Library and these books: