Whether they were inspired by Wagner's flying Valkyries, or the Aesthetic and Revivalist Movements, some tiaras had wings. Here are three beautiful examples.

This tiara consists of a a pair of wings on a frame, feathers closely set with diamonds, and patches of translucent blue enamel. They are adjustable to any angle and can be taken off the frame to wear as brooches, individually or as a pair. Women would wear a tiara like this to a performance of a Wagner opera in Paris or London c. 1905.






From a Sotheby's auction, this British Revivalist tiara was designed as a pair of wings pavé-set with diamonds, the tips of translucent green enamel, flanking a star ruby cabochon, supported by a pair of diamond-set coiling serpents with small round cabochon ruby eyes. It was made by Carlo and Arthur Giuliano, c. 1895. Sold for $36,000 on Dec. 6, 2006.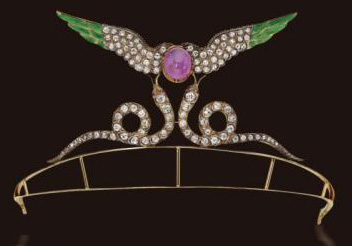 From The Tadema Gallery, this rare Child & Child tiara from the Aesthetic Movement is made of gold, silver, plique-a-jour enamel and crystal. It has a monogram of two C's and a sunflower and was made c. 1895. It is listed in a number of books, including Two Centuries of Tiaras, Museum of Fine Arts, Boston. Price Range: 20,000 UKP and up.