Diamond Thoughts, Old and New
This is a modern replica of a Victorian tiara, made of 5 graduated diamond flowerheads, some have a 2- to 3-carat fancy vivid yellow diamond in the center and 2 or more carats of D flawless white diamonds, which make up the petals. There are also marquise-shaped yellow diamonds on the bandeau. It is part of a parure. This 5-piece set and can either be hooked onto the necklace to make a second tier or worn as the tiara, shown. With earrings, the price estimate is $500,000. It is being auctioned in Dubai on April 20.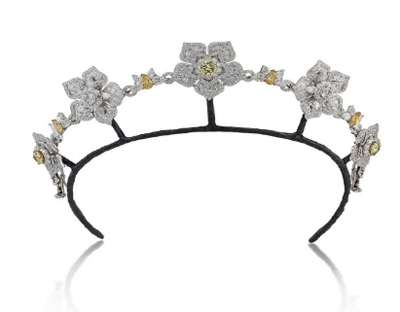 But sometimes, artists can have different thoughts about diamonds. Here are graduated diamond studs hooked around rubber to make a bandeau. I have never seen this combination of materials before, and I love it.