The Industrial Revolution was built on the invention of new materials and the machines that allowed them to be mass produced into cheap products, quickly. The exploitation of sweatshop laborers had a profound impact on society. Plastic comb making was no exception.
In America, the most famous factory was in Leominster, Massachusetts. In France, combs were made in Oyonnax, an administrative region of Ain, which is located in the Rhône-Alpes. The town even has a Museum of the Comb and of the Plastics Industry.
Some of Auguste Bonaz's combs were made there.
Today, collectors think only about the artwork, the artist, design genius, and have an image of a master carving a masterpiece with his own hands.
After 1900, however, women sat for 16 hours a day in front of hydroelectrically powered turning machines. Then the French mechanic Humbert adapted the band saw, which allowed plastic combs to be cut in patterns. In 1871, Lyon Vuillermoz invented a machine that enabled a worker to punch the pattern into the plastic with a single stroke of the arm.
Here is what the women who made plastic combs in Oyonnax looked like.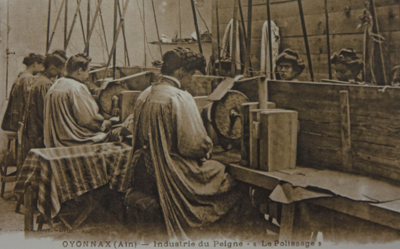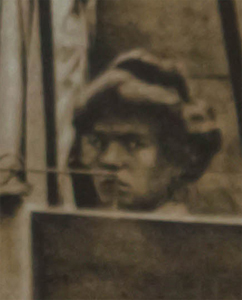 Here are some of Auguste Bonaz's glorious designs that they might have made.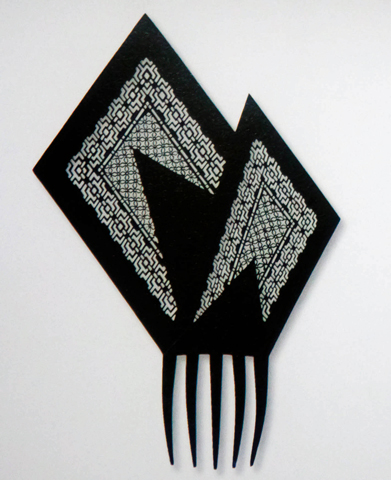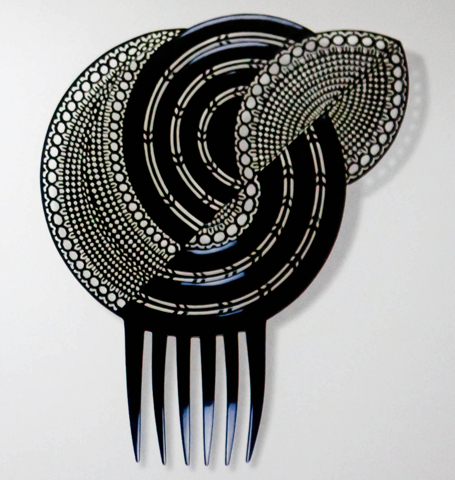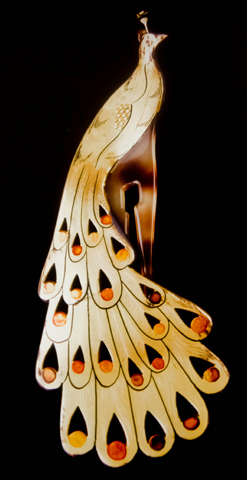 कंघी
For more scholarly research, please examine
The Comb: Its History and Development by Jen Cruse
Les matieres plastiques dans l'art contemporain: 23 mai-4 juillet 1992, exposition a Valexpo, Oyonnax (French Edition)
Plastic Jewelry of the Twentieth Century: Identification & Value Guide