This comb sold at Sotheby's for $20,000 on April 20, 2010. I believe Japanese ideas influenced Cartier's Parisian jewelers in 1920, just as they influenced French artists during Japonisme (1867-1905).
The Japanese intricately carved chrysanthemums on coral kanzashi. It seems Cartier took this idea, fit the coral carvings into an English-style tiara, and hinged it on a tortoiseshell comb. The mums also have diamond centers and are bordered with pearls.
To compare and contrast, here is the Cartier comb and a Japanese coral kanzashi.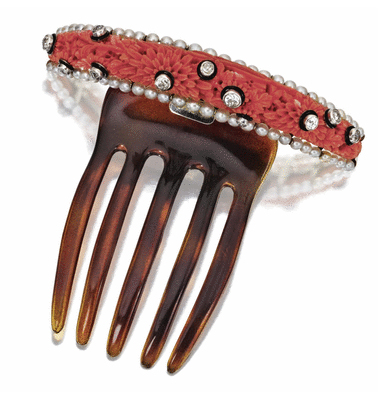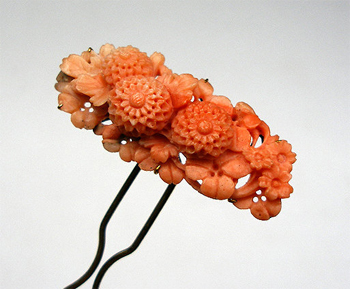 कंघी
For more scholarly research, please examine
Cartier: Innovation through the 20th Century
Catalogue of a collection of hair ornaments, pouches and toilet articles used by Japanese women;: The collection of Baron Ino Dan