By Jen Cruse:
The fleur-de-lys (often spelt "lis") motif is frequently encountered on ornamental haircombs, either as part of the overall decorative heading or as an applied embellishment. It is said to represent three central petals of the lily, a flowering plant of the genus iris.
The initial conclusion may be that combs depicting this motif must be of French origin, but not necessarily so. The fleur-de-lys was and still is widely used on innumerable artefacts and textiles around the world, although no doubt it had its origins in France.
Certainly the name is French, meaning the "flower of the lily" or "lily flower" and, according to encyclopaedic references, is a very old pattern that was used as decoration in ancient times in countries as far apart as India, Egypt and Italy.
It first appeared in Europe in the 12th century as a motif on heraldic coats of arms. It was the emblem of the French Kings and was depicted on the French Royal flags, shields and banners up to 1789. When Edward III of England (1312-1377) claimed the throne of France, he added three fleurs-de-lys to the three lions of England, and they remained on the English royal arms until 1800. To this day the fleurs-de-lys are still part of the decoration of the royal crown.
The fleur-de-lys is the adopted emblem of the city of Florence in Italy. It also appears on 17th century tombs in Delft churches in The Netherlands. In religious pictures the motif, like the ordinary lily that signifies purity, is symbolic of the Virgin Mary. The motif also became the emblem, in a modified form, for the Scouting movement worldwide, founded by Lord Baden-Powell in 1907.
The 3 combs illustrating the fleur-de-lys motif are all made from celluloid (cellulose nitrate) and date from around 1910 to 1914.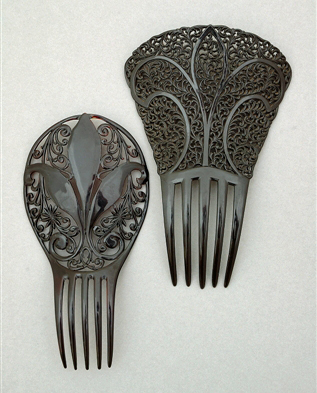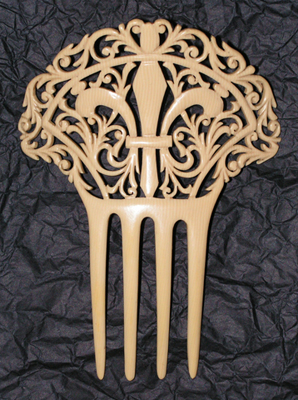 कंघी
For more scholarly research, please examine
The website of the Antique Comb Collectors Club