In Latin, it is known as the Triregnum. The crown of the Roman Catholic Pope has three jeweled tiers, but is rooted in Byzantine and Persian design. In fact, the word, "tiara," is Persian.
The bottom crown appeared in the 9th Century. Jewels were added when the Popes attained political power in the Papal States of Italy. In 1298, Pope Boniface VIII added a second layer to assert that spiritual dominion had precedence over civil authority. Pope Clement V was the first to wear the triple tiara with the cross on top and gold strips, c. 1314.
On the left, Pope Innocent III (1198-1216) wears an early papal tiara, juxtaposed with Pope Pius IX's ornate version (1846-1878).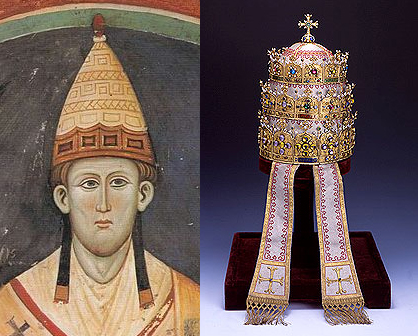 At Sotheby's, an Italian model, which never belonged to any pope, will be auctioned off on Nov. 4. 2011. It has no cross and is made of gold, seed pearls, and gems. Date: c. 1840. Estimated Value: $15,000 to $25,000. The leather case stamped Marcus & Co., New York.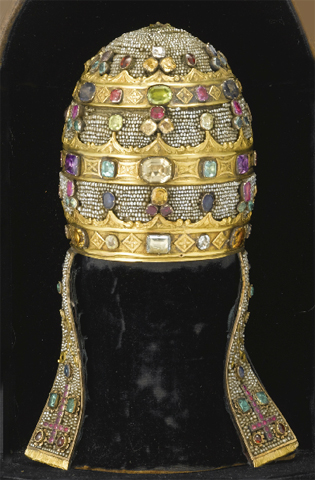 However, when preparing for his coronation, Pope John Paul II was asked if he would like to wear a papal tiara and answered, "This is not the time to return to a ceremony and an object considered, wrongly, to be a symbol of the temporal power of the Popes. Our time calls us, urges us, obliges us to gaze on the Lord and immerse ourselves in humble and devout meditation on the mystery of the supreme power of Christ himself."
A great man teaches us that a tiara can be more powerful in its absence than in its presence.
कंघी
For more scholarly research, please examine
Royal Jewels by Diana Scarisbrick
Crowns, including: Crown (headgear), Papal Coronation, Crown Jewels Of Ireland, Tiara, Imperial Crown Of India, Iron Crown Of Lombardy, St Edward's … Holy Crown Of Hungary, French Crown Jewels