Alexandre de Paris was a hairdresser, who said, "I did the hair of royalty, politicians and stars of this world. I offered my customers perfection, demand and beauty with a mastery of the hair in its purest form."
This is my absolute favorite corporate brand of modern hair ornaments. They make limited editions, and their designs are taken from French Art Nouveau and Art Deco history. The combs are hand made in Paris by special ateliers, which means the company's rare pieces can be labeled haute couture. Also, because they use modern, durable materials, you can wear them.

Sometimes they make only two pieces of a design, as with this example: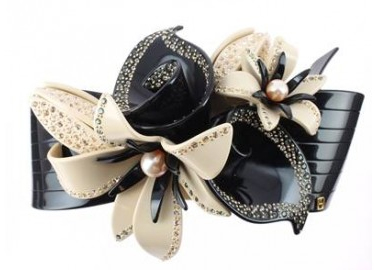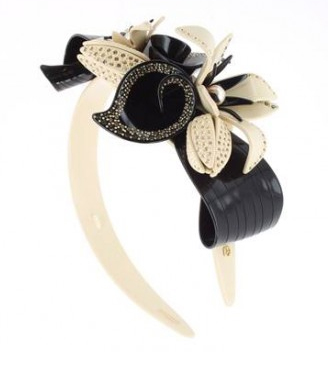 Here are some roses inside camelias. :-)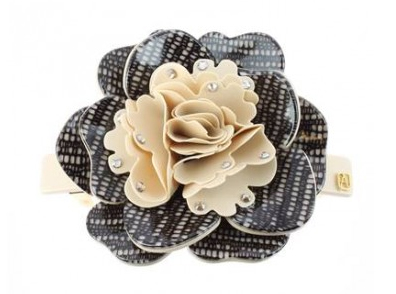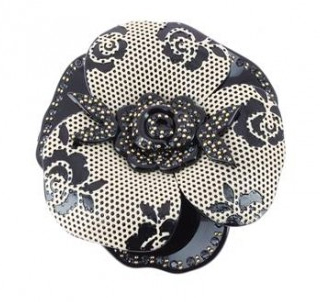 These two butterflies would make a wonderful pair of side barrettes.

Papillon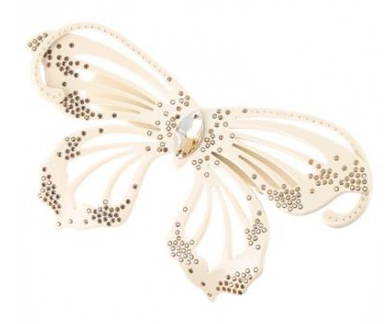 Alexandre de Paris brings to life one my favorite movie quotes of all time. It was spoken by Meryl Streep as Miranda Priestly in The Devil Wears Prada, when she first speaks to her new assistant: "'This… stuff'? Oh. Okay. I see. You think this has nothing to do with you. You go to your closet and you select… I don't know… that lumpy blue sweater, for instance because you're trying to tell the world that you take yourself too seriously to care about what you put on your back. But what you don't know is that that sweater is not just blue, it's not turquoise. It's not lapis. It's actually cerulean. And you're also blithely unaware of the fact that in 2002, Oscar de la Renta did a collection of cerulean gowns. And then I think it was Yves Saint Laurent… wasn't it who showed cerulean military jackets? I think we need a jacket here. And then cerulean quickly showed up in the collections of eight different designers. And then it, uh, filtered down through the department stores and then trickled on down into some tragic Casual Corner where you, no doubt, fished it out of some clearance bin. However, that blue represents millions of dollars and countless jobs and it's sort of comical how you think that you've made a choice that exempts you from the fashion industry when, in fact, you're wearing the sweater that was selected for you by the people in this room from a pile of stuff."
I bow down to the Goddess.
Anyway, ALL over supermarket hair sections, you see headbands with big flowers on them. Alexandre de Paris was the first company to make this idea for the haute couture market perhaps about 8 years ago. Here are some of the head bands from this year's Spring Collection: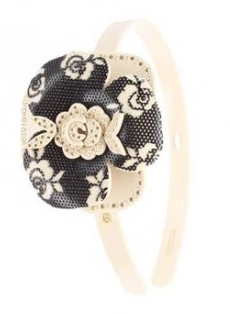 Look at the modern elliptical hole in this headband. We've seen them in comb tines since the 1950's. Let's study how long a modern-tine design in a headband takes to get to Wal-Mart.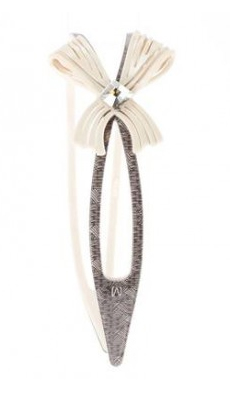 Total BarbaraAnne. :-)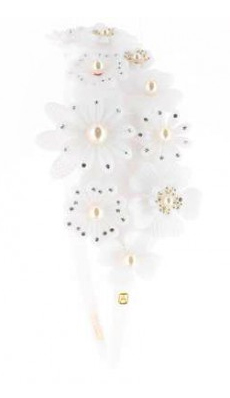 Branches swing over as the wind blows. I love this, and it also comes in white.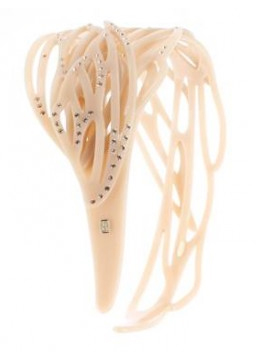 And look, they also put their butterfly design on a comb. Notice the elliptical holes in the tines, just like the headband.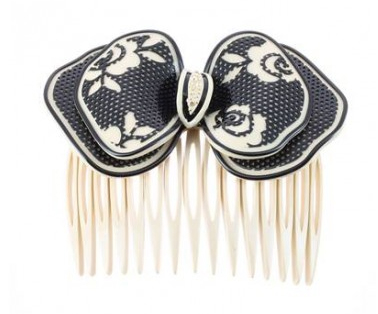 The prices of these are anywhere from $300 to $800. In the stores, they have other design variations and rare pieces, which cost thousands now. People in Europe flock to New York to take advantage of the weak dollar.
कंघी
If you want the real thing, go to the Alexandre de Paris Online Shop.
If you want an haute couture piece, which will never be available online, call Jovy in the New York store at 212-717-2122.
If you would like something that will allow you to keep your home :-), I have picked a few barrettes from France Luxe, a good quality brand that looks up to Alexandre of Paris, is quite wearable, and much less expensive. Their two-butterfly design is almost an exact copy of an Alexandre de Paris barrette I have from the 1980's.