I guess Ebay is having a cycle. Sometimes it's dead for what seems like years, as in, "If I see this comb listed for way too much money one more time I'm going to scream." Other times, beautiful pieces come on the market.
This week, a white-gold hair pin with diamond stems and pink mother-of-pearl flower buds is selling for $1439.99 in a Buy It Now. It was made in the 1960's. The hair pin shape with two curved prongs surrounding a straight one imitates French style in the late 19th Century. You may refer to auction 130649801556.
The comb in this ad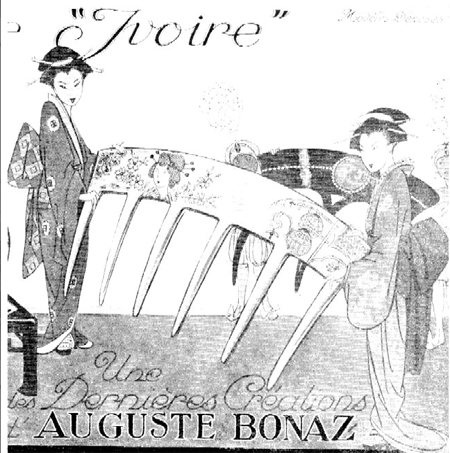 sold for $102 on Ebay France, a pittance. Hand-drawn geishas wearing kanzashi grace a French ivory comb, as they are framed by floral kanzashi ornaments. One of our authors wanted it, but lost by a snipe bid from an unknown account. My guess is the person who put the picture of this ad in the Bonaz section of her store got the prized, rare Bonaz.
An 18th Century silver hair ornament with rubies and a bird in the center is selling for $700. It has the original patina, is in excellent condition, and was part of the traditional decoration worn by classical Bharata-natyam dancers in the Southern Indian state of Tamil Nadu. You may refer to auction 190153693139.
The same dealer is also selling a superb Yao hair pin. The Yao people originated in the hills of China and settled in the Golden Triangle, which overlaps the mountain ranges of Vietnam, Thailand, Laos, and Myanmar. It is the second-largest opium-producing area in the world next to Afghanistan. This ceremonial pin has real hair and wool on the back and was made c. 1900. Price: $1550.
This Chinese ivory export comb with three floral stems over an intricate lacy background sold for $643.78. It came in its original box. Sellers who list antique ivory combs on ebay describe them as "ox bone" because too many people have tried to sell modern poached ivory, which is a crime and should be prosecuted.
Our last item is a beautiful pair of French Art Nouveau hair pins with painted pink flowers. The seller believes they are blonde tortoiseshell. I would have to hold them in my hand, but tradition dictates the material could also be clarified horn. The auction has one day to go, there are no bids, and the starting price is $331.52. You may refer to auction 200716111321.
कंघी
For more research, please examine