This is an exquisite set of three Faberge 18K gold, diamond and tortoiseshell hair pins. The geometric mesh is a distinctly Russian design. The combs also have an Imperial-style border and come in their original box. They are selling for $12,000.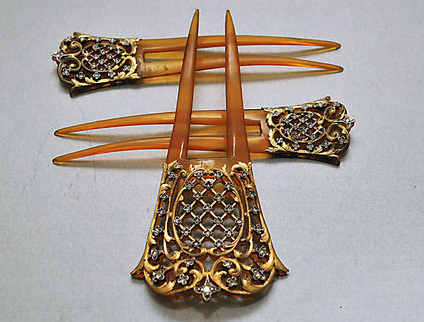 Sewn into the original box are the gold letters of Faberge. The crest over them has the double-headed eagle with a crown in the middle of it. As we learned from the ivory liturgical comb commemorating Sophia Paleologue, this is the mark of the Tsar, which means that these combs were made for the Royal Family.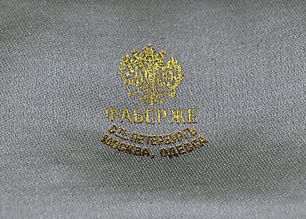 If you look at the maker's marks in the back of the larger gold hair pin, you will see Faberge's name, and what I believe is ES, the mark of work master Eduard W. Shramm, who came to St. Petersburg from Germany and made cigarette cases and other small jeweled pieces.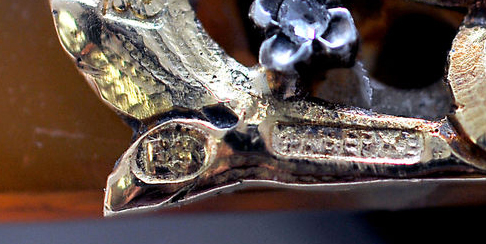 This is a picture of the original Faberge store on 24 Bolshaya Morskaya in St. Petersburg, ca. 1910.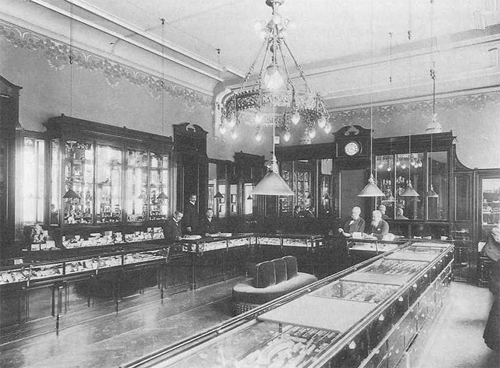 कंघी
For more scholarly research, please examine these books, which can be found in our Resource Library.