Sotheby's
In September of 2010, jewelry designer Ann Ziff opened her store on Madison Avenue, Tamsen Z. After specializing in barrettes, she started creating jewelry in all forms. On 6 April 2015, the "Renée Fleming Iris" brooch she made will be auctioned at Sotheby's, with a starting estimate of $80,000 – $96,000. The flower was created by Australian hybridiser Heather Pryor as a tribute to Fleming in 2004.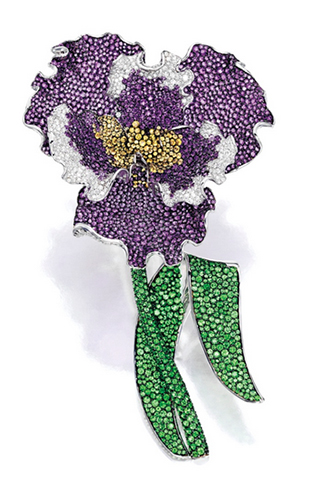 A 13th Century Kashan Minai vase is estimated at $6000 to $9000 and features roundels containing seated figures and four further figures to the shoulder. It is to be sold at the Arts of the Islamic World auction on 22 April 2015, London.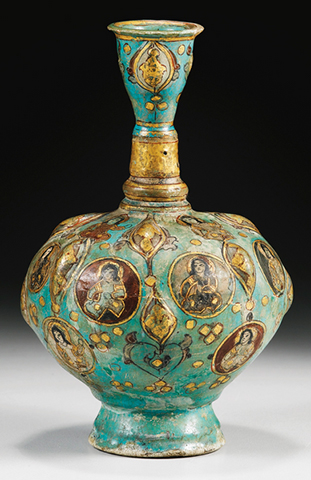 Two lacquer pen boxes signed by Najaf'Ali, Qajar, Iran, 1849 and 1855. These are papier-maché. One has battle scenes, the other portrays a young maiden beneath a tree holding a flower. Estimate: $6000 to $8000. Auction: Arts of the Islamic World. 22 April 2015, London.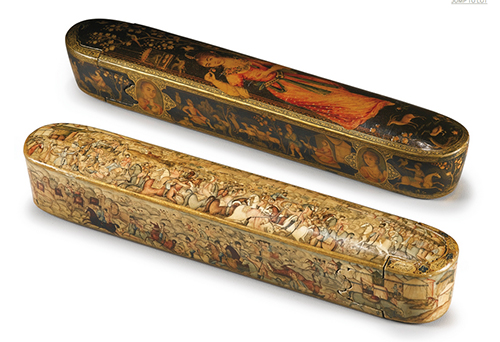 An eagle-shaped gen-set pendant, whose gold body is set with rubies and emeralds was purchased in India in the 18th Century. Eagle pendants appear throughout Spain, North Africa, and India. They were customary in Deccani noble circles. Estimate: $22,000 to $30,000. Auction: Arts of the Islamic World. 22 April 2015, London.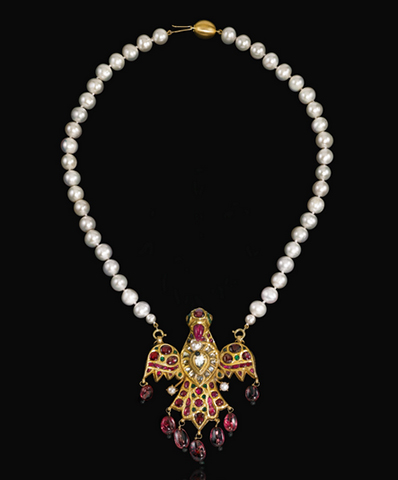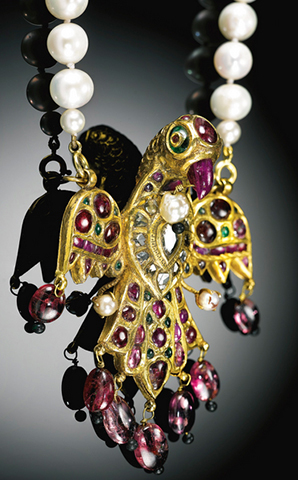 A large Timurid Jade Talismantic pendant from 15th- to 16th Century Persia is light green jade witha cusped petal border. It was bought by the great-great-great grandfather of the present owner who travelled frequently to the Middle East. "Equations of magic numbers find their origin to the second century BC, and originated in India and China. Recorded as early as the tenth century in the Islamic world, such compositions of magical numbers were referred to as 'harmonious organisation of numbers'. These equations appear on a number of mediums, and notably jade, which was carved into amulets such as the present example. A similar example is in the Bibliothèque Nationale de France, Département des Monnaies, Médailles et Antiques, inv. no. 2276." Estimate: $10,000 to $15,000. Auction: Arts of the Islamic World. 22 April 2015, London.