Tiaras have been an essential part of a woman's wedding dowry since the Middle Ages.
As early as the 1850's, aristocratic women bought sets of diamond sprays and brooches. Delicately set in platinum and looking like embroidery, these pieces came with different fittings such as a tiara frame, hinge for a tortoiseshell comb, or pin back. Women could be practical and wear jewelry appropriate for formal and less formal occasions.
In England, agriculture, trade, and industry flourished, so ostentatious costume displays did not ignite envy. However in France, Napoleon III lost the Franco-Prussian War when he surrendered at Sedan on September 1, 1870. This act ended the Second Empire and ushered in the Third Republic.
In a republic, French women dared not appear in tiaras at official receptions. Instead, they took pieces of the tiara and adapted them into hair combs and other items for a parure.
Here are a few examples.
The Poltimore Tiara.
Garrard's (London jewelers since 1735) made the tiara in the 1870's for Lady Poltimore, wife of the 2nd Baron Poltimore. Princess Margaret wore it to her wedding to photographer Anthony Armstrong-Jones in 1960. With a screwdriver and different fittings, it can be converted into 11 brooches and a necklace.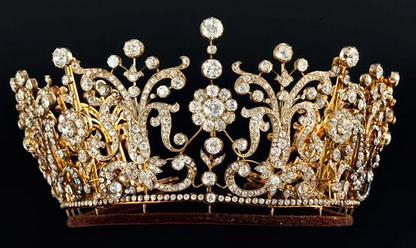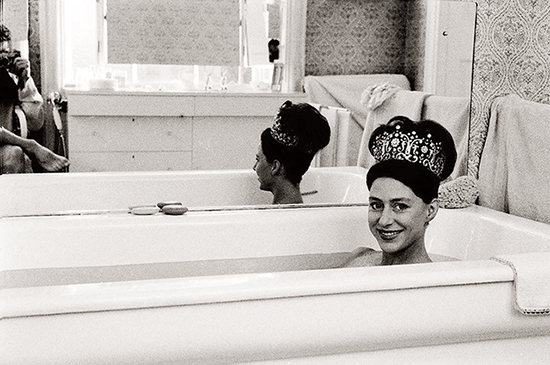 Here is Princess Margaret wearing it in the bath!
The Archduchess Maria Anna's Tiara.
Sets of crescents and pear-shaped diamonds flank two tiers of diamond clusters. A lever behind the tiara can adjust the height, and it can also be taken apart to make a choker, bracelets, and pins. It was made in Vienna by Moritz Hübner in 1903.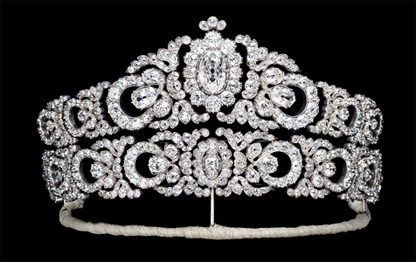 Mellerio Floral Tiara.
Diamond and emerald roses proudly rise above the frame, but it is still a practical piece. The diamond sprays can be separated and worn as hair combs or brooches. It was made by Mellerio dits Meller c. 1850 and belonged to the descendants of Eugéne de Beauharnais: the son of Napoleon I's Empress Josephine, by her first husband. It is so ironic that she had a son by another man, when she was Napoleon's true love, and he had to divorce her because she could not produce an heir.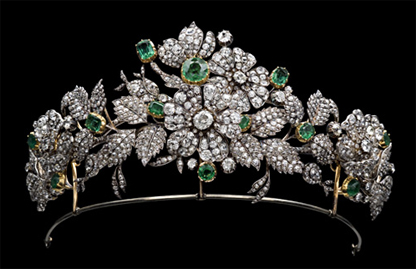 Diamond Spray Tiara, c. 1855, The British Museum.
This diamond tiara combines three branches, two oak leaves and one acorn. They are set on a frame of silver and gold. The piece comes in its original case, with two tortoiseshell hair combs, the tiara frame, and brooch fittings. It was made by Hunt & Roskell, 156 New Bond Street.