These works will be auctioned at Sotheby's on Dec. 9, 2010.
The barrette is by Cartier, circa 1905. In front, a setting of old European-cut diamonds weighs about 5 carats. Blonde tortoiseshell in back completes the piece. Price estimate: $10,000 – $15,000.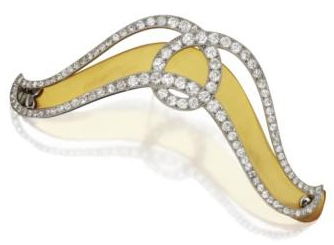 The French made magnificent H combs out of ivory and boxwood during the 15th and 16th centuries. As Medieval painting and music began to express secular themes, so the scenes carved into these combs were about love or decoration, not God. This French Medieval comb is made out of boxwood, has an intricately decorative theme, allows light to shine through it, and is estimated to be worth 6,000 to 8,000 GBP.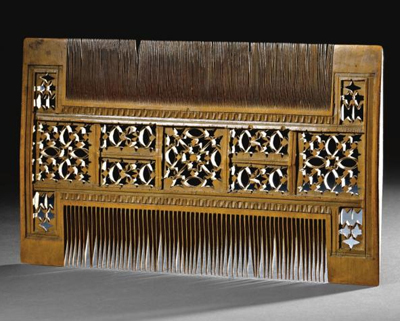 Our last piece is a brooch-barrette Louis Comfort Tiffany made for his father's store, Tiffany & Co, circa 1920. He used 18-karat gold, platinum, set a round black opal in the center, and surrounded it with demantoid (green) and spessartite (orange) garnets. The garnets are accented by sapphires.