We are honored to present an interview with jewelry artist Susan Maxwell Schmidt of LongLocks HairSticks. Her philosophy of making each piece a one-of-a-kind work of art has given her jewelry an international fan base. Of course everyone wants to know how she does it.
BA: How do you choose your beads?
Susan: "Whenever I look at a bead, I imagine it on one of my designs. I don't try to do this, I can't help but do this. If I like what my mind's eye sees, then it gets added to my massive bead collection. Not that I don't sometimes buy beads with no intention of ever putting them on hair sticks (a set of hand-carved huge but gorgeously delicate smoky topaz leaves I bought for a necklace comes to mind). That being said however, I'll sit on some beads for years and "rediscover" them again at some point, and often what I end up using them for is entirely different from the purpose for which I initially bought them."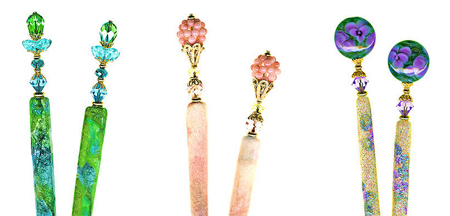 BA: Do you look at the bead and choose the hair-stick style, or does your creative process go the other way around?
Susan: I swing both ways. Special-edition design sticks are often designed for the beads. I give myself more leeway in designing the other way around for regular designs, which gives me an excuse to forage through the bead drawers. I have them arranged by company/country/color in my studio. In addition, there are boxes of beads I haven't had a chance to organize yet. That's when I do a lot of the "rediscovering" I mentioned earlier. "Whoa, where'd they come from? Never seen those before!"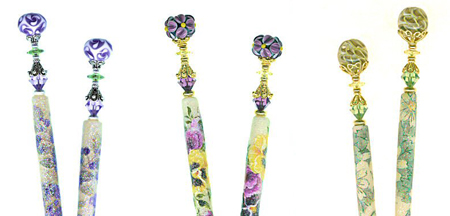 BA: What inspires you to come up with a new LongLocks HairSticks style?
Susan: Anything that is artistic or can be perceived from an artistic point of view. I have been inspired by things as simple as a color, a pattern in fabric, or a single painting or dyeing technique. My most unusual inspiration came when Home Depot screwed me on a granite order so I finished the horrendous Formica countertops in my otherwise gorgeous kitchen in copper foil with veining of multicolor metallic earth tones and a buff of black acrylic. Once the whole thing was sealed under a thick coat of Bar Coat, I loved it so much I had to do something similar on hair sticks. That's how LongLocks MineraliStix and RomanzaStix were born (put them together and you know what my kitchen counters look like).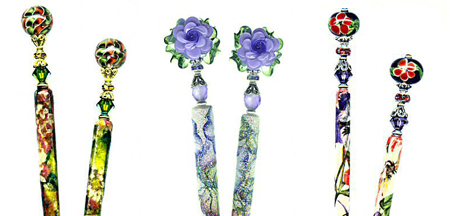 BA: Which fashion icons have inspired you, in your art and in your life?
Susan: I don't know that my art is directly inspired by fashion icons but surely it ends up being affected by my fashion sense and tastes. I am a fashionista, and though I do love clothes my uncontrollable shopping addiction is all about accessories, especially jewelry, handbags and shoes. I am currently on a major Kendra Scott kick and think I'll end up owning just about every pair of chandelier earrings and cuff she makes. I feel as though as far as design goes, she is to affordable designer jewelry what I am to hair accessories… if I designed production jewelry, it would all be in the same style as Kendra Scott's. My favorite fashion designers (keeping it to the bare minimum and keeping it in the moment) are Alexander McQueen, Marchesa, Dior, Zuhair Murad and Valentino. My fav accessories designers are Alexander McQueen, Furla, Isabella Fiore, Adrienne Vittadini and Chanel. And Kate Spade. And Oscar de la Renta. And Judith Leiber. And Charles Jourdan. And Hype. And Marc Jacobs. And Junior Drake. And La Fiorentina. And…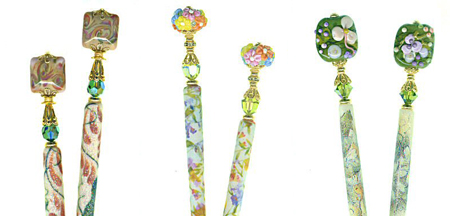 BA: Everyone knows your designs come from your own creativity. That is why you have such a fan base. How do you feel about people who rip off your designs?
Susan: You know, it used to bother me a lot but years ago someone pointed out to me how much better it is to be in the position of being the one people want to copy rather than being someone so sadly unimaginative as to have to copy others. That was an epiphany for me and changed my entire outlook on the subject. There are so few people who are seriously designing handmade upscale hair jewelry that it becomes blatantly obvious to hair jewelry collectors who is copying whom. Considering how often it's pointed out to me that someone else has done a poor job of imitating my ideas or my designs, I've come to the conclusion that they do infinitely more harm to themselves and their own reputation than they can possibly do to me.
Integrity is important to me and my customers know that. My designs are my designs and my customers know that. Other "artist's" ideas are often my ideas and many of my customers tell me that. I don't spend time thinking about what anyone else is doing and I rarely even bother to look at anyone else's designs or sites. It's just not important to me, and my time definitely is, so that's not how I choose to spend it.
कंघी
For more addictive shopping at affordable prices and hair-care information, please examine
Longlocks Special Edition Designs
The Hair Care Recipes Cookbook