The kanzashi's original purpose was a charm against evil spirits. The tradition began as early as 1000 BC to 300 AD, in Japan's Jomon Era. Decorating them with flowers invited deities. The art captured the Japanese cultural imagination in the Edo era (1603 – 1867), when criminal activity increased. This initiated laws that prohibited people from going out in hats or head coverings, so hairdressing once again came to the forefront of Japanese fashion.
There are many different kinds of kanzashi:
Mimikaki: an ear pick on the end.
Tama: decorated with a single coral or jade ball. However now, many materials are used.
Hirauchi: a flat silver circle decorated with flowers or symbols
Hana: strings of dangling flowers, worn by geishas
Bira Bira: fans with long dangling chains, which have ornaments at the bottom
The most interesting ones have unique elements, either as a single decoration or a set of concepts. I'd like to feature three today, one each, from my collection, The Miriam Slater Collection, and The Creative Museum.
My bridal kanzashi is decorated with Mino-Kame — a straw raincoat, which used to be worn before the invention of textiles; a tortoise and pine boughs for longevity; a scroll of wisdom; a treasure box; and flowers, indicating nobility.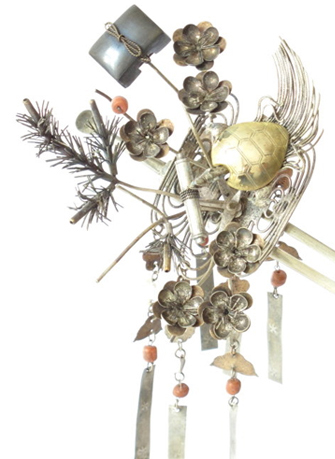 Miriam's kanzashi is unique. A man with a fishing pole sits on a curved leaf structure, surrounded by dangling chains.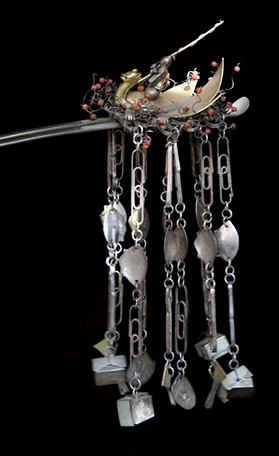 Finally, the Creative Museum has one I absolutely love: a gold fish, whose face looks almost human.