There have been a few beautiful things from ebay auctions, which are worth noting.

This spectacular engraved Sterling silver comb, marked Albert Coles of New York City, New York, sold for $177.50 on October 10, 2006.. Mr. Coles was a silversmith from the 1830s to the 1870s.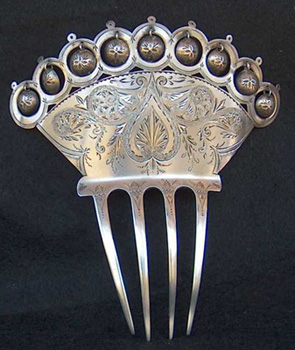 Pictured left: On October 9, 2006, a comb by French art nouveau jeweler Henri Hamm (1867-1961) sold in an ebay live auction for EUR800, approximately $1003.76. It is made of carved blonde horn with a gold-bordered opal, c. 1904. Pictured right: A Henri Hamm comb at the Tadema Gallery. It is also carved blonde horn, inlaid with gold, mounted with demantoid garnets, and sold for between 2,500 and 5,000 British Pounds Sterling. Both are signed H. Hamm, but the person who bought the Hamm comb listed on ebay got a beautiful item for one-fifth the retail price.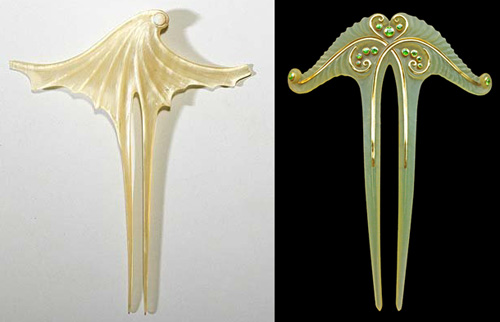 A blonde tortoiseshell hairpin with a 14K inlaid gold top, tied in a knot, c.1880, sold for $323 on October 1, 2006. The seller, bubbleking, lists it as being American in origin. Not sure why he thinks that, as most of the combs in this style are English, but maybe. :-)






Another American-made dark shell hairpin, with gold mount and pearls on top, c.1880, sold for $256.01 on October 10, 2006.