There have been a few beautiful things sold on ebay recently.

A Chinese hand-carved ivory comb of immaculate intricacy sold for $230.41 on Nov. 22. You may refer to item #290051280139.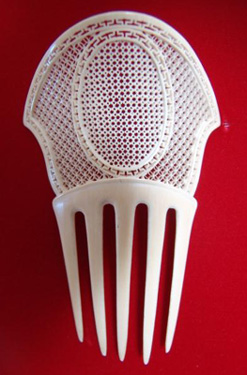 A Late Edo tortoiseshell comb with gold maki-e paint and coral cabachons sold for $150 on Dec 10. This was a good buy.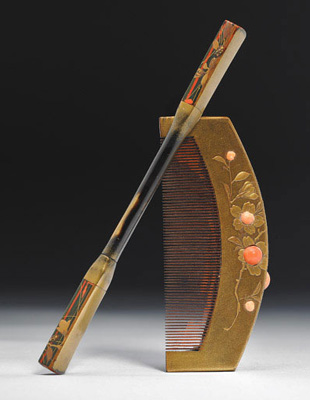 A Victorian heavy gold plate, filligreed tiara with real red coral beads, c.1850, sold for $394 on Dec 11. It is very rare for all the tiny coral beads inbetween the gold plate to be in place and undamaged. Victorian jewelers also made combs in this style with seed pearls. Provenance: It was bought by Charles Stirling, 1789 – 1867. His grandchildren sold it through seller auctionit-ca, who lists the family's entire history.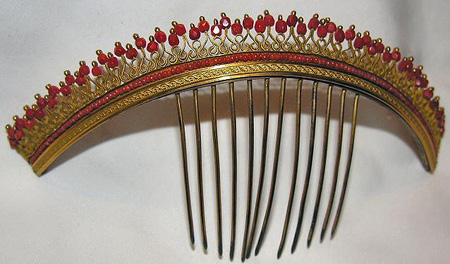 An opal tiara of the same quality was also sold by Stirling's grandchildren through auctionit-ca for $335. It has filligree roses and 17 opalite stones. I think I know the person who bought it. Oh! It was ME! ;-P Want to hear a tragedy? The seller offered this comb for a Buy-It-Now of $200 in the beginning of the week, and I bid on it instead. I am currently on the train to ebay hell, where I will be in a room full of ebayers yelling at me for eternity for this, but it's still beautiful, and I'm thrilled to have won!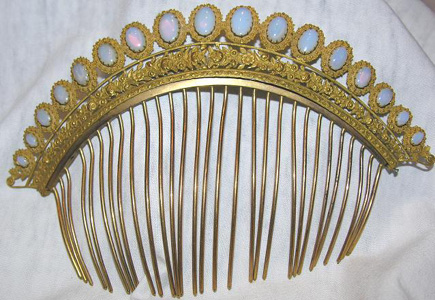 This beautiful Chinese ivory hair pin sold for $305.01 on Dec 10. I think that's high for this. If you look at the comb titled "Ivory Birds in a Flower Garden" in my bird comb post, you'll see an entire comb in the same design.