Hi Peeps :-) I have been so busy with work and writing a book, there hasn't even been a moment to blog! I am so sorry about this. A lot has happened in the comb market since my last post. I guess I'll start with the lovely stuff that has been sold on ebay, and then move to other venues. The first thing I'd like to talk about is Victorian garnet hairpins, c. 1880. The small garnet tiara cluster on a two-pronged hairpin is a common design, but they are all beautiful. Maybe it would help collectors if a fair price could be recommended. On January 21, an ebay member paid $750 for this bohemian garnet tiara hinged on a two-pronged hairpin of clarified horn: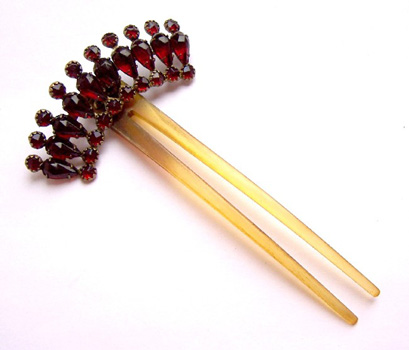 Antiques and Uncommon Treasure on Ruby Lane is selling this garnet tiara hinged to a two-pronged tortoiseshell hairpin for $295. She also has a matching garnet ring and bracelet to complete a set, each sold seperately.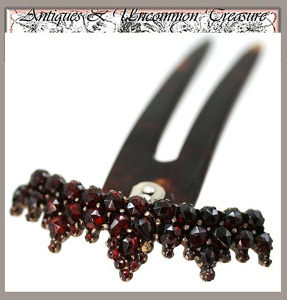 This ebay seller did not meet her reserve when buyers only bid $179 for this garnet tiara hinged to a 2-pronged tortoiseshell comb on Feb 7.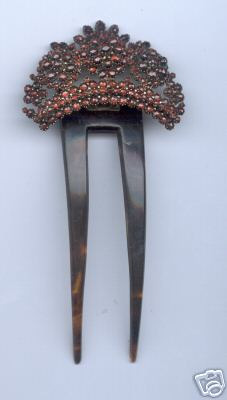 And an ebay seller tried to sell this garnet tiara, tortoiseshell hairpin for — if I remember correctly — around $1000. Please correct my memory if you saved this auction. I only saved the photo. Why $1000? The box is Faberge. Is there documented provenance placing that hairpin in that box? No. I guess if I feel an item is worth $300, and I'm going to pay $700 for a box, I'd want peer-reviewed documentation placing that object in that box by that jeweler. No one bought this piece.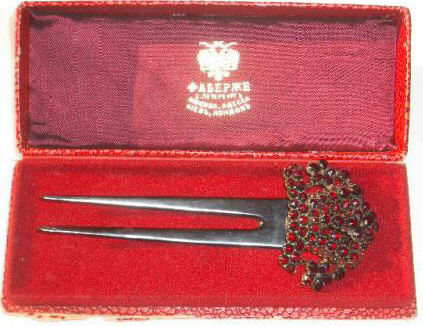 I'm going to go out on a limb. ;-) I think the $300 range is a fair price for garnet hairpins of this style and size, in excellent condition. If you pay over that, it could be auction frenzy, provenance that it came from a famous jeweler, or the name of the jeweler with the year marked on the back. Makers marks most certainly add value. How much is up to you.