Kanzashi are Japanese hair pins, which ornament a geisha's nihongami, or coiffured black wig. Maiko, or younger geishas, wear more ornaments than the older, more experienced women. Different flowers are worn for each season.

Kanzashi are different than kushi (comb) or kogai (matching stick), even though all three ornaments serve the same purpose. I usually focus on antiques, but I feel modern kanzashi deserved some notice. Today, they are being made from vibrantly colored fabric and painted wood, as opposed to the tortoiseshell and silver of previous eras. The modern ones are quite affordable, too. So I thought I'd compare and contrast today and feature one of my favorite actresses: Zhang ZiYi.

These two tortoiseshell and pink-coral kanzashi ornaments are Taisho, c. 1920, and depict bamboo, plum and pine in an auspicious grouping, which the Japanese call "Sho-chiku-bai." They were listed with a dealer who retired in 1999 at $300. I'd say that now, they were worth 3 times that because of the rarity of the design, quality, and condition. Tragically, I have no way of hunting down the owner, so I can kidnap her and force her family to give these to me as ransom. :-( ;-) But these are Maltese Falcons. :-)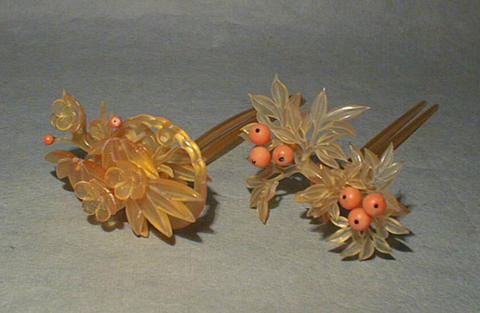 These beautiful tortoiseshell and coral hana kanzashi are tree peonies from the late Meiji Era (1868-1912). Hana kanzashi have the flower anchoring the pendants. One pendant is missing, but that's no big deal. They are on sale on Trocadero for $890.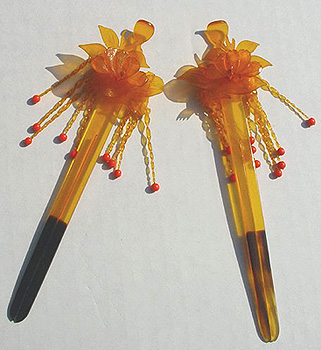 Bira bira kanzashi are "composed of metal strips attached by rings to the body of the ornament so that they move independently, pleasantly tinkling (which is sometimes accentuated by additional bells) or long chains of silk flowers called shidare." (src: Wikipedia) Here is a gorgeous set from the Edo era. Value? Anything you can get it for. Wouldn't matter. These are fabulous, and any dealer who had them would know that.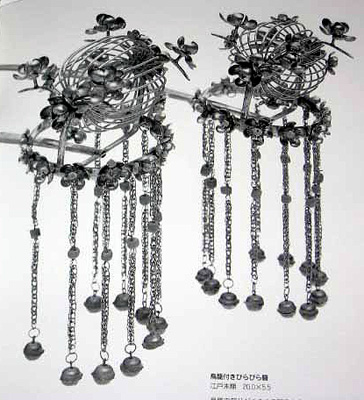 And here is a modern fabric wisteria. You can get them for $50, and these are the kind of kanzashi that Zhang ZiYi wore in "Memoirs of a Geisha." Miss Zhang's hana kanzashi were more complex than these, but you could get replicas of them if you really wanted to.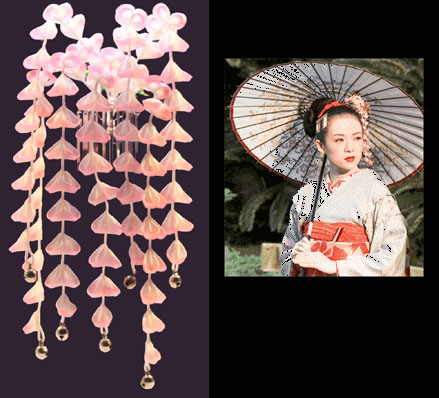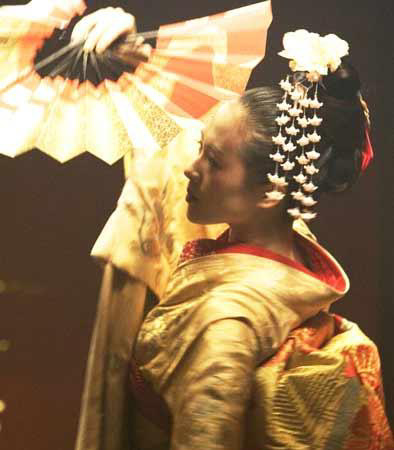 In addition to wearing geisha ornaments with such elegance, Miss Zhang also appears in diamond tiara combs when she attends award shows. I think she is fabulously beautiful.