Since I'm on an authenticity kick today, I'll feature three beautiful antique Chinese kingfisher pieces. One is a tiara and pin set, which sold at an ebay live auction for $250 on May 18. This brass tiara was inlaid with kingfisher feathers, jade, coral and pearls, with minor loss to the feathers and stones. The drop was 2 3/4″, set with small coral beads; and had significant feather loss.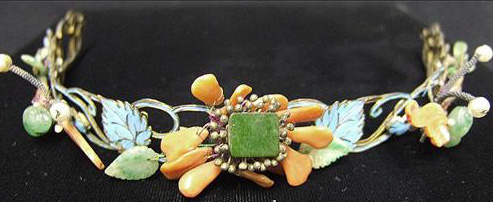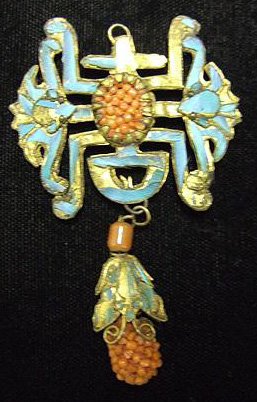 Here is a lovely authentic antique Chinese hair ornament selling on Trocadero for $590. It depicts a still life with jade leaves, rose quartz flowers, and a vase on a metal stand. The ornament also has books and scrolls with Chinese characters written on them, part of a silversmith's mark stamped on the side (De…), and the kingfisher feathers have come off. The seller dates this to the early 1800s, Qing Dynasty. I don't know enough to check him. Comments welcome on this, but I have liked this little piece for a long time.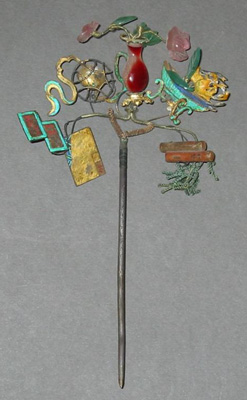 When I see those little Chinese oraments on Ebay, which all look the same, with all the kingfisher feathers in perfect place, for $40, I get suspicious right away. However, the oraments featured here are authentic Chinese antiques. You can see they have ideas in them. The price goes up, the less damage there is to the feathers.