There have been some beautiful things sold on ebay recently.

A beautiful tortoiseshell, gold makie, and coral kogai stick from the Edo period sold for $490 on Nov. 28. You may refer to Auction #300174753664.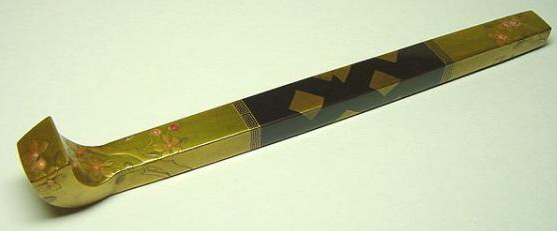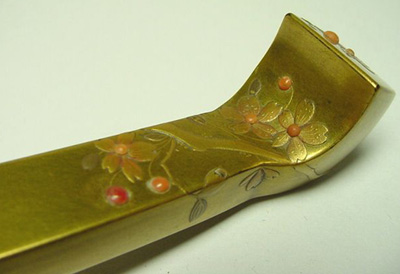 A Showa tortoiseshell kushi with two layers of leaves flowing in the wind sold for $257.82 on Nov. 25. You may refer to Auction #330189054886.





A gorgeously carved Victorian ivory comb went for the stunningly low price of $86 because two pieces of it were missing. When such a beauty, with no discoloration, has damage, I hold my head in my hands. Anyway, it was a great bargain, and a beautiful comb. You may refer to Auction #230197013812.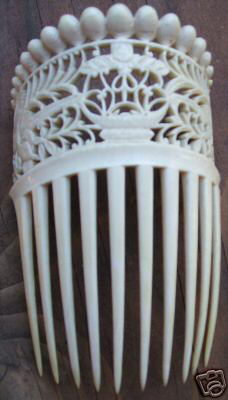 A beautiful 14K rose gold hair pin sold for $383 on Dec 6. You may refer to Auction #250193680625.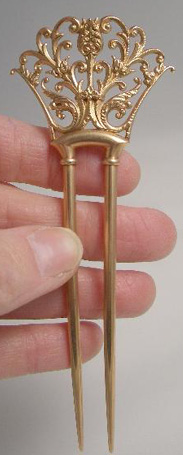 On Dec 10, this matching set of beautiful garnet butterfly hairpins went for $760. You may refer to Auction #170174938274.




This beautiful late Edo tortoiseshell kanzashi, c. 1850, sold for an excellent price of $152.53 on Dec 9. The pins are smaller because it was made to be worn at the front of the geisha's wig. The quality of the shell is translucent blonde and extraordinary. You may refer to Auction #110201844429.




And finally, I bought this butterfly ivory comb on Ruby Lane recently for $245. It looks pretty discolored, but no pieces are missing, and I loved it, so c'est la. Update: I received it. It's not discolored at all, and it's huge. I'm thrilled with it.