The Combs of Elizabeth Bonte

Inspired by Lalique, Mme. Elizabeth Bonte was a French jewelry maker who specialized in horn pendants. She merged her workshop with her rival George Pierre, and they made art nouveau jewelry until 1936. Both did much to popularize horn jewelry in France at the turn of the Century.

This comb shows two cicadas on a flowering tree branch. It's made of engraved horn, heightened with color, and is selling at the Tadema Gallery in the $5000 to $10,000 range. c.1900.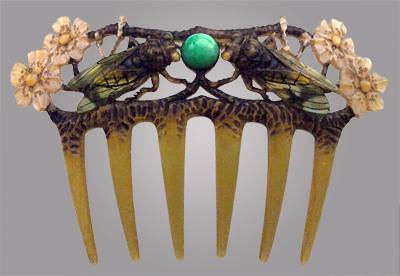 This comb of flowers with subtle shadings is also engraved horn. Signed, E. Bonte, c. 1900, it is selling at the Tadema Gallery in the $1200 to $2400 range. Both combs appear in Bijoux et Reliures-Artistes du XXe Siecle La Bibliotheque des Arts-Paris 1992.