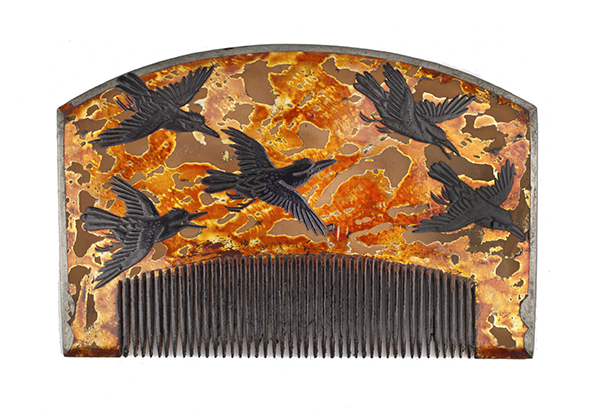 From Japan: Edo Era comb, 18th Century, H: 8 cm. W: 12.2 cm. The plot is about 5 crows flying in the clouds at sunset. As was the style, the crows were not drawn in perspective.
It is made of shell and encased in a metal frame. The crows are raised and painted with black lacquer, as are the teeth. However instead of gold maki-e, which would have been more traditional, this artist chose to use varnish. This way, he could portray the outlines of the sun on clouds, which hold different hues of the same color when the sun sets. The hues and outlines of a sunset the artist achieved with varnish is what makes this comb a masterpiece. It resides at the Troppen Museum in Amsterdam.
You can see crows portrayed in the same style in the Art Nouveau combs of Lucien Galliard, as Galliard hired Japanese craftsmen in his workshop. Here are two examples. The first was made in 1903 from shell and shows three birds. The clouds are implied by cuts in the tortoiseshell.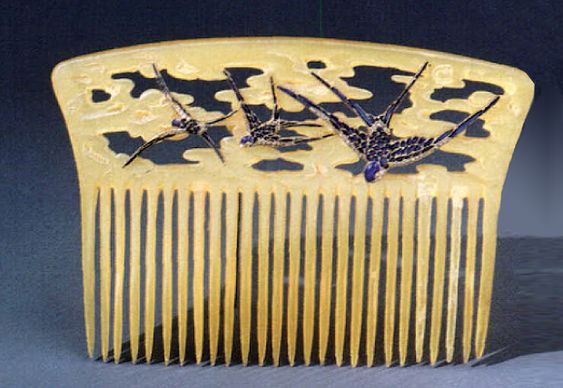 The second is Galliard's famous Bluebird comb, which sold at Christie's for $218,000 on Oct 21, 2009. There are three birds here, also, and the clouds are made from white enamel on an open frame.
कंघी
References:

The Jewels of Lalique

Okazaki Collection:
Combs and Ornamental Hairpins

Japonisme: The Japanese Influence on Western Art Since 1858