During the Victorian period, archeological discoveries in Rome and Greece captivated the imagination of jewelers. Leaves found on ancient headpieces became a favorite ornament in tiaras. Here are four lovely examples.

This French tiara, c. 1820, is set in a patterned, gilded frame with faceted crystals. It depicts a spray of hyacinth leaves with raised flower buds. It sold last year for 1000 GBP from a dealer in London.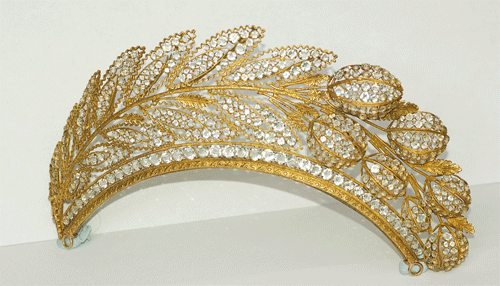 This English gilt metal tiara and brooch has flowering sprays of myrtle. On the blue velvet cushion that came with it, silver thread was embroidered to read "d.11ten Januar. 1867." It sold at Sothebys in London for 4,320 GBP.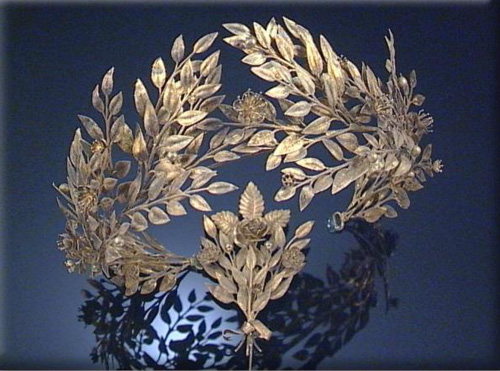 This Castellani Archeological Revival Gold tiara, c. 1870, is a simple gold branch bearing sprigs of olive leaves, with circular openings at either end for ribbons. It was exhibited at The Bard Graduate Center in New York, Somerset House in London, and Villa Giulia in Rome, and sold for $19,200 at Sothebys.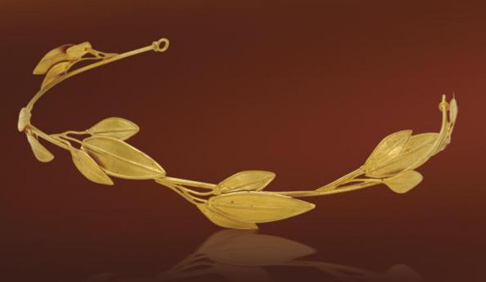 Last is this diamond tiara, designed as a spray of fern leaves set with cushion-shaped and rose diamonds. The fitted case is by J & P Bapst & Fils Joalliers, 25 Rue du Faubs St Honore, Paris, c. 1870. Sale Price: 82,700 GBP at Sothebys.