This delicately carved blond tortoiseshell comb with 18-karat gold pique, c.1890, sold for $258.88 on Nov. 11. You may refer to Auction #220168340896.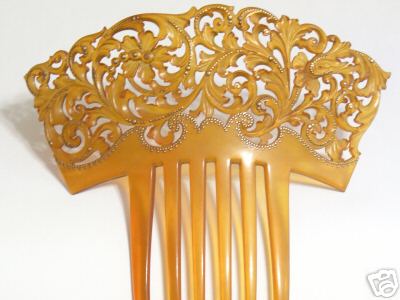 This beautiful blond tortoiseshell hairpin with 14-karat gold decoration and a bar of sapphire and diamonds attached, sold for $229.38 on Nov. 11. You may refer to Auction #220168352193. I thought this one was ridiculously underpriced. I wonder where everyone was.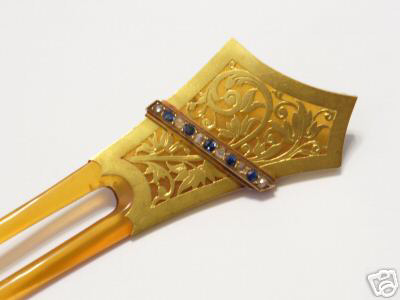 This Meiji gold, silver, and coral bira bira kanzashi went for $305 on Oct. 22. You may refer to Auction #300161851114.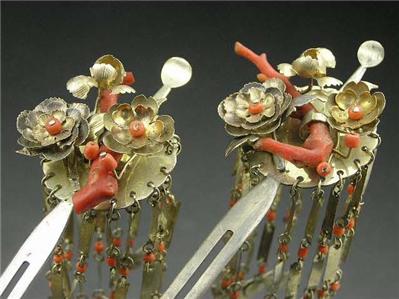 I'm buying this Japanese silver, gold plate, and black enamel Showa set from Shigeru's brother in Japan. I liked the 3-dimensional quality of it. Lotus flowers in a pool of water.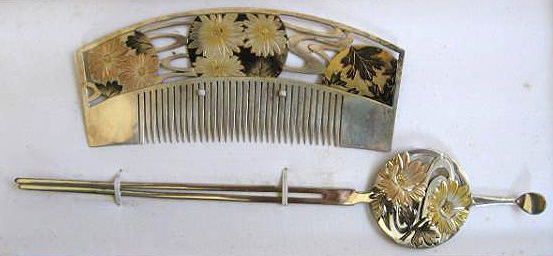 I'm also in installment payments to buy this, a total Barbara piece. It's Regency, c.1820, a floral spray with rhinestones. One of those flamboyant things I had to have, or I'd die. But it seems I'm that way with everything I love. When the Prince Regent, George, stepped in after his father George III went mad in 1811and then ruled from 1820 – 1830, England named the fashion period, Regency, after him.