Sotheby's is having a sale of important jewels, and there are no formal combs or tiaras.

But then I started looking at what they had, and thinking about Christian Lacroix and how he just threw hair fashion up in the air, saw what came down, and had the courage to create something new. I thought there were brooches that were so gorgeous in this sale you could easily wear them in your hair. In fact some had barrette and two-pronged hairpin backings.

So today, I'm going to do a collection of magnificent pieces that can double as barrettes. I chose the ones with imagination. I'll do a post with diamond broaches from 1850 to 1950 at another time because the design changes are quite significant, but for today, we toast imagination of the artist.

This butterfuly brooch/barrette is set with orange, yellow, and pink sapphires, rubies, amethysts, citrines, green garnets, and black diamonds. It's mounted in 18K yellow and black gold. There is no maker's mark and no year, but I thought the creativity of this piece spoke volumes.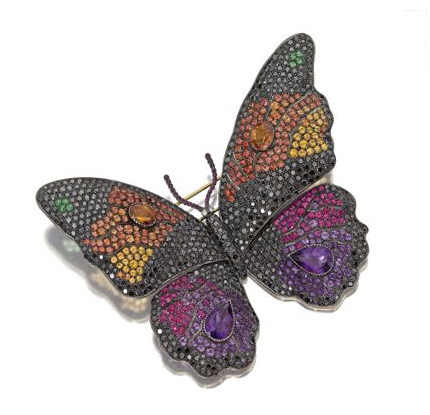 Carved wood forms the trunk of this tree, with branches of gold set with yellow and pink-hued diamonds. The leaves are emeralds and pink sapphires. Maker: Nardi. No year, but gorgeous.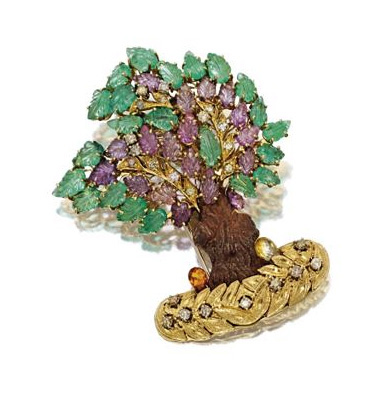 This broach has a barrette backing. Its ruby and emerald leaves, outlined by diamonds, overlap. It's mounted in 18-karat gold and platinum and was made by Van Cleef and Arpels in France in 1969.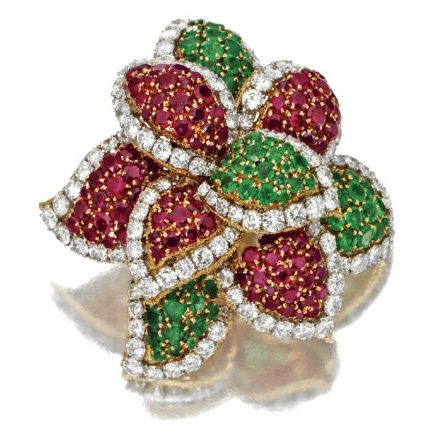 This gold, diamond, coral strawberry brooch sit on a branch of textured gold with a flower leaf set with 59 round diamonds. No maker, no year.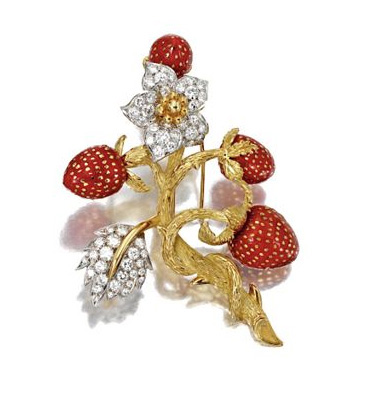 The back of this gold, diamond, pearl, and enamel necklace can be detached so the front part can be worn as a tiara. The piece is c. 1850. The center portion is composed of 5 interlocking plaques designed as floral clusters and ribbons with a link of gold scroll links at the back. I fainted when I saw this. I'd wear it all day, never taking it off until I died. :-)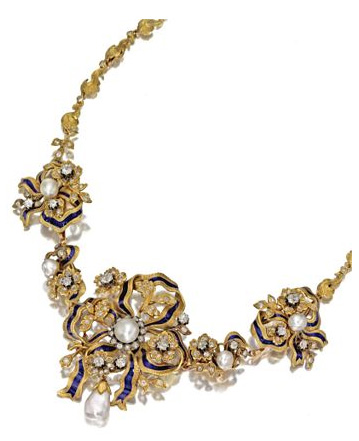 This Renaissance Revival brooch by Carlo Giuliano would also look beautiful as a barrette. Made in 1870, it is a geometric pattern with cushion-shaped diamonds and small pearls anchored by a pearl drop.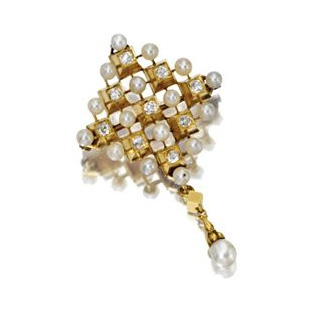 This carved lilly of the valley hardstone brooch has pistels of diamonds, leaves of adventuine quartz, and stems bound by a ribbon of diamonds.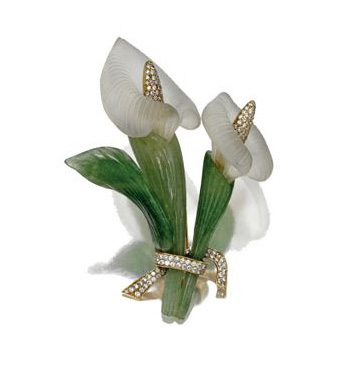 And so we'll end today with the king of beasts. The back of this coral lion with emerald eyes also has a two-prong hairpin form. The lion wears a crown set with diamonds and emeralds and is wearing a diamond necklace. Signed Tiffany & Co, numbered 17710.