A full parure includes the matching necklace, 2 bracelets, brooch, ring, earrings, and a hair ornament or tiara. Today I have chosen 5 hair ornaments that are part of demi parures, which were worn in the Victorian period.

This coral hair ornament is on a black silk strap, highlighted by a principal carved coral flower framed by two smaller flowers and an assortment of buds and leaves. It was owned by Countess Rosamund Courten and dates c. 1850.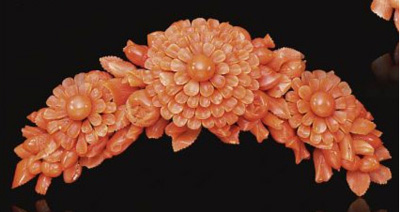 This gold, enamel, seed pearl, and lapis lazuli brooch attaches to a tortoiseshell comb. The lapis lazuli cabochons are embellished with a cannetille decoration. (Cannetille is a wirework decoration which uses coiled and twisted gold wire to achieve a delicate scrolling effect.) c. 1810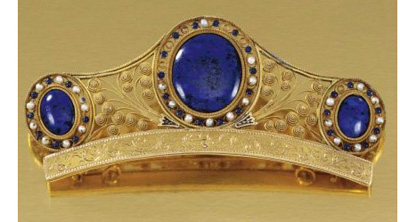 This gold hair ornament c. 1830 has a flowerspray design, set throughout with variously cut rock crystals in blue foiled settings. It also attaches to a tortoiseshell comb.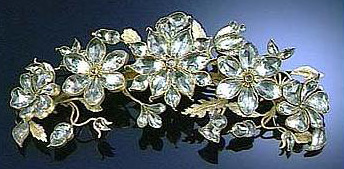 And finally, these two stunning pieces by Carlo Guiliano, a leader of the Revivalist Movement in mid-19th Century jewelry making. Each hair ornament is part of a different parure. c. 1850.