I'm sorry I haven't written in a long time. I am in the middle of this programming project at work, and I'm like dee-doo dee-doo dee-doo. Of course, senile dementia at turning 50 in 7 months has nothing to do with it. ;-P So here is what I have for today. Ebay first. :-)

I bought this bone or ivory peacock comb, via $175 check on May 20, because I had to have this birdie. There is discoloration on the ends of the comb, but I didn't care because I thought the design on top was flamboyant and original.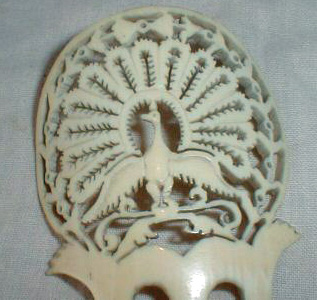 This beautiful REAL shell English back comb, c. 1860, sold for $179.61 on May 22. Dealer thought it was fake. I didn't. The price reflected that the bidders thought it was real shell, too. It has a beautiful shape.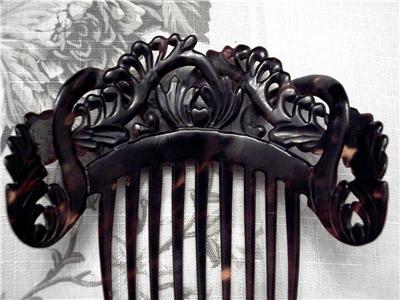 This tortoiseshell kanzashi with a coral bead sold for $75 on May 16, a fabulous price.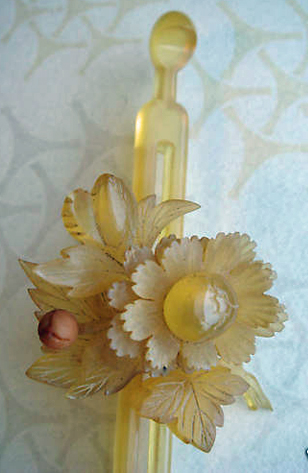 This spectacularly designed swan and tulip ivory comb sold for $305 on May 4 to myrnatoo, her excellent taste of course. Look at the way the swans and tulips interact and are Symbolically elongated to make the design. Also, like the Lalique snake comb in my previous post, look at the swan heads at the bottom of the design, which turn into the tines of the comb. A gorgeous art nouveau piece.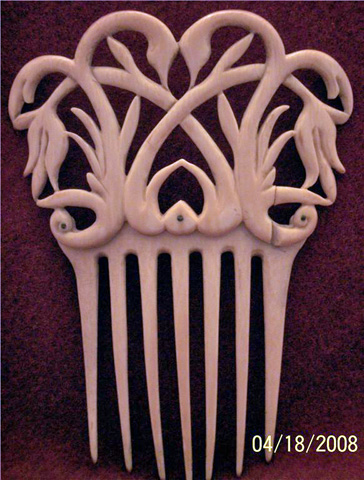 This antique Victorian 14K gold hair pin sold for $325 on May 19th. You see a lot of these in silver, but rarely in gold.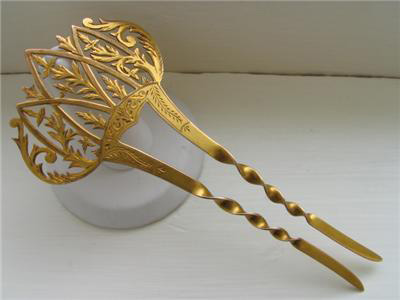 This German art nouveau comb was made in silver, enamel, and horn by W. Rothenhofer c. 1900 and sold at Sothebys for 2133 EUR. The openwork silver mount sits atop a three-leaf clover.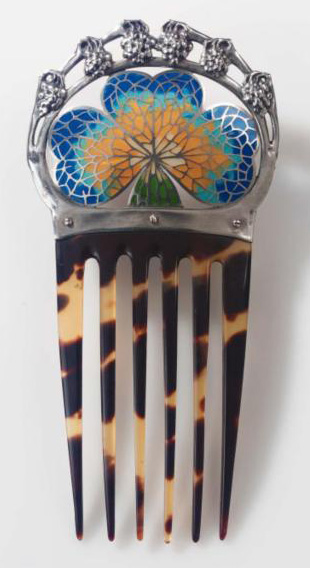 The cameo on this hair ornament, part of a parure, is Apollo on his chariot, c. 1830. The decoration is gold cannetille. The parure sold for 4560 UKP.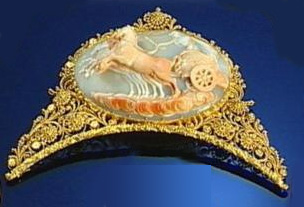 And lastly, ladies and gentlemen, I poo you not, some jeweler made a comb out of nuts. I call it the Nutcase Comb, and no I didn't buy it, thank you very much, but someone did. It was part of a parure with a nut necklace and earrings that sold for 5040 GBP. Nuts like these fall off my pecan tree in my front yard in Georgia for nothing, but the jokes are so many, I have to stop. :-) The gold underneath has a Greek key design, and rests on a tortoiseshell comb.