The first thing I will show today is a tiara hinged to a tortoiseshell comb. Called the bluebird comb, it was done by Lucien Galliard, c.1900. Three dark and light blue enamel and gold bluebirds have diamond eyes and soar through pale blue and white plique-à-jour enamel clouds. The stars are made from old-cut diamonds.
Lucien Gaillard employed Japanese craftsmen in order to create jewelry for the 1900 Paris Exposition. When Lalique saw his collection, he told Gaillard to focus on that area. Following the Exhibition, Galliard's Japanese craftsman created unique pieces such as the Bluebird Comb, even though he put his own signature on them. Price estimate: $100,000 – $150,000.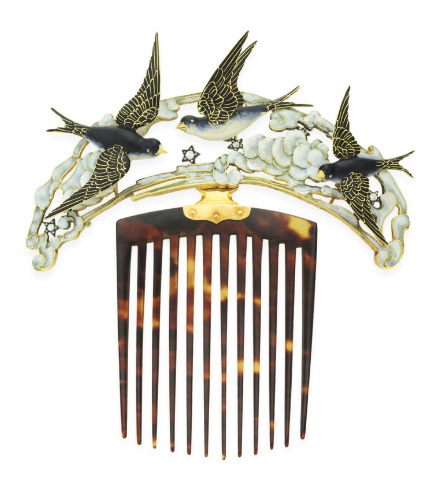 The next three combs are Lalique. First is a horn shield, scattered with peridots, decorated by two snakes about to strike. In a clear realization of the Symbolist philosophy, the bodies of the snakes are elongated and shaped to make up the tines of the comb. c. 1898. It sold for $107,500.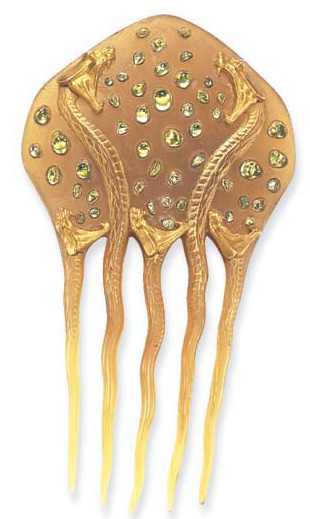 This Lalique hazelnut comb was made to be worn in December. The carved horn panel boasted hazel leaves, which covered two chestnuts. He textured the leaves and stem in gold, c. 1900. Price est: $200,000 – $400,000. It did not sell.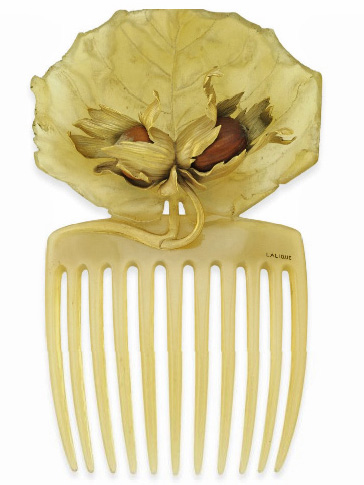 My final Lalique comb is a horn comb with a blue and green enameled Japanese landscape The sunset was done in yellowish orange enamel. c. 1900. This sold for $273,500. Go Rene!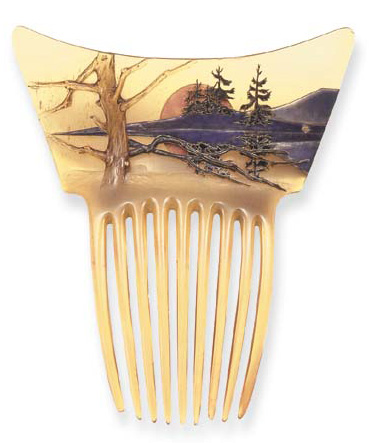 The next piece I'd like to show is a tiara with horn leaves, apple blossoms, diamond pistels, and textured gold branches and twigs, enhanced by baroque pearl buds by Paul Leinard. c. 1905. It sold for $60,000.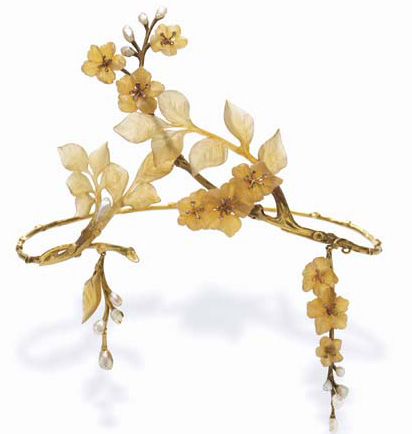 Another tiara that caught my eye was an Italian bronze with gold filigree, pale blue enamel, and the micromosaic art for which the Italians have no peer. c. 1800. It sold for $6000.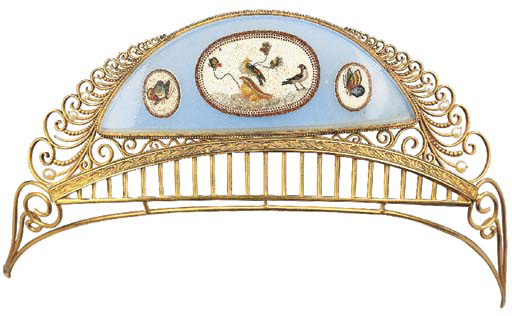 And finally, I can't help myself. Fabrege. Maker's mark for August Holmström on frame. Sold for $2,071,389. What can you say.