Made with .925-silver, agate, jade, and moonstone, this barrette is German, c. 1930. What makes it special is that in the literature highlights of the Schmuckmuseum, Pforzheim, Fritz Falk, 2004, page 76, there is an illustration ofa Rene Lalique brooch that looks just like it, called Willow Wands. It is on sale at the Tadema Gallery in the $2500 – $5000 range.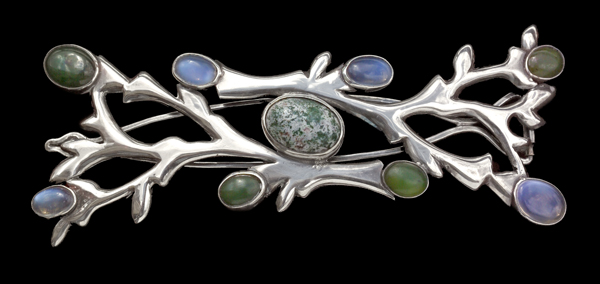 In addition, at Christies, a suite of early 19th Century gold and turquoise English jewelry is being sold, bearing an estimate of 5000 UKP. The suite includes a necklace, earrings, a bracelet, brooch, and this gorgeous tiara.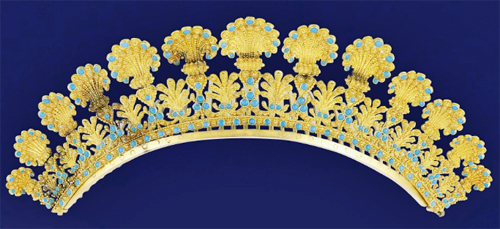 Yes,every day my hairdresser comes to outfit me in the tiaras and dresses and hairstyles that go with them *cough*, but this painting by Louis-Marie Autissier (1772-1830) shows a lady in a blue satin dress with a Renaissance collar and a pearl-set gold tiara in her perfectly curled brown hair.