Al Hirschfeld Before Nina
Before he hid his daughter's name in caricatures, Al Hirschfeld created this color drawing for the 1954 album cover of The Golden Apple, Broadway's version of Homer's Iliad and Odyssey. Rejoice in the flamboyant headdresses costume designers gave to the female characters: a Japanese fan, Indian feathers, a French plume, and a bandeau. Al drew them in such marvellous art deco style.
The Margot Feiden Galleries have the copyrights to sell his drawings, most of which are in black and white. I wonder if she has the original color art of this one. What's fun is that my father's name is on the bottom of the album cover.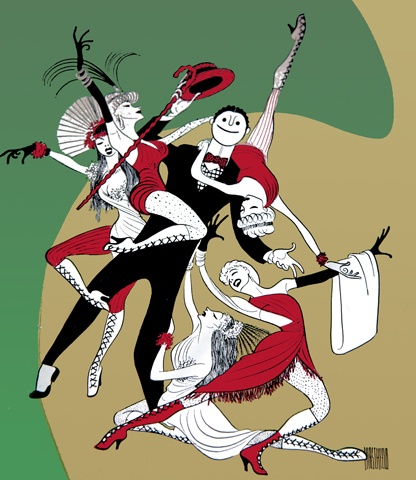 For more enjoyable research, you may listen to