Here is an openwork ivory comb they identified as being from the Nasrid dynasty of 15th-Century Spain. Its handle of openwork designs resides in the center and supports a row of thicker teeth on the top and finer ones on the bottom. The sides have crescent designs. The auction house estimated its value between the $20,000 to $30,000 range. Sotheby's sale date: October 5, 2011.
However, from the research of our scholar Kajetan Fiedorowicz, the comb is Spanish, but not from the 15th Century. At best it is from the mid-18th Century, which would make the price estimate incorrect. $1000 would be a better estimate.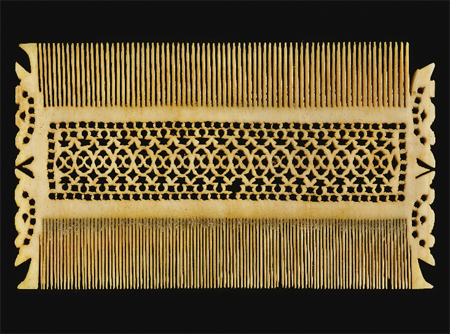 Why would a comb from the Nasrid dynasty of 15th Century Spain be so valuable? Because it was a time when Christians, Muslims, and Jews lived and thrived in peace.
The Moors conquered Spain when Almohad Caliphate was defeated in 1212 at the Battle of Las Navas de Tolosa. Muslim rulers founded the Nasrid dynasty in Granada in 1232. Twenty-three emirs ruled until 1492, when Muhammad XII surrendered to Queen Isabella of Castille and León and Ferdinand of Aragon. That same year Tomás de Torquemada was given the title of First Inquisitor General and convinced Ferdinand to expel the Jews.
कंघी
For more scholarly research, please examine
The Comb, by Jen Cruse — page 54