Remember that two Empire diadems with almost all the seed pearls missing sold at Sotheby's 3 years ago for $3000 a piece. Now, incredulously, a dealer from Belgium got the hair comb collection of a lifetime, and sold it on E-Bay for basically nothing. I couldn't BELIEVE my eyes.
This French Empire seed pearl comb IN EXCELLENT CONDITION sold for *drum roll* $597.77. He started the bidding at $145. Do you think Sotheby's could have sold it for $5000? I do.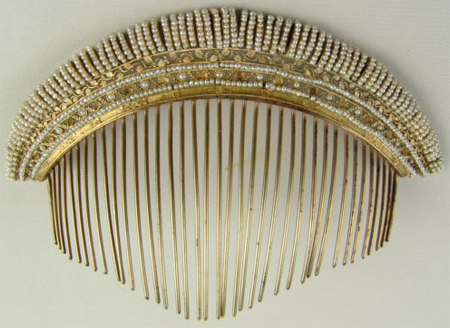 This one sold for $439.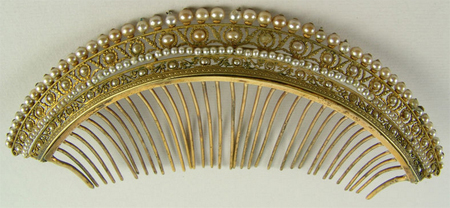 I have been obsessed with this auction all week, and I can finally talk about it! Oh my God, the bargains people got. Congratulations to all the winners.
There were some absolute masterpieces in this collection. Here is a selection with the final selling prices. I don't know who the collector was, but this was a life's work of love, devotion, and scholarship. A book could have been published about this collection. The Creative Museum family saw a few of their grandmother's combs and devoted their lives to turning her interest into a monument. I feel this woman's heirs, if she had any, saw her life's love and threw it away.
Sterling silver comb. The bird on top of leaves has a ruby, and the edges are decorated with moonstones: $910.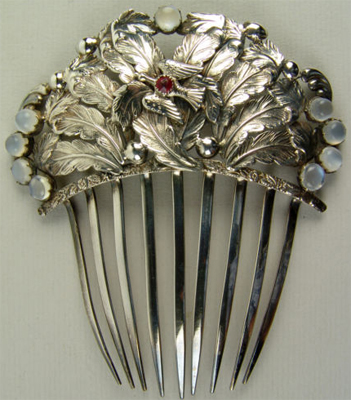 The coral tiara part of an Empire comb: $760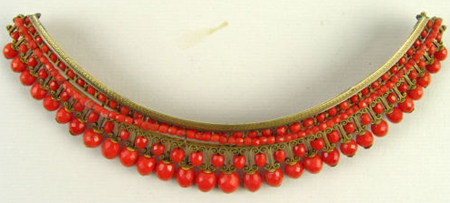 An 18K gold and diamond top to a blonde tortoiseshell hair pin, c. 1890: $680

A magnificently ornate coral tiara from an Empire comb: $549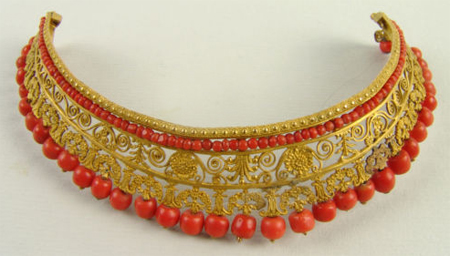 Amethyst Empire comb in almost perfect condition: $458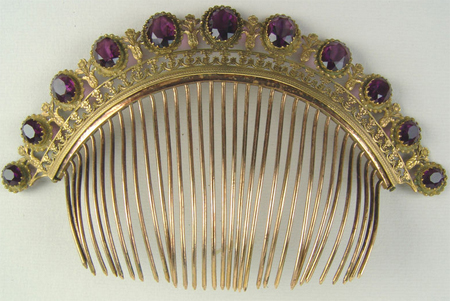 18th-Century ivory comb from Ceylon: $400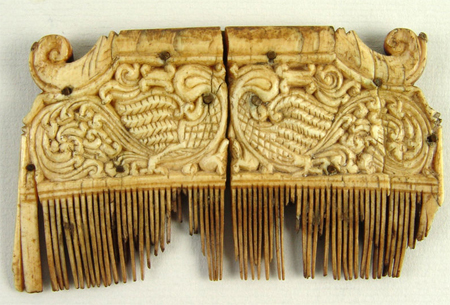 French art nouveau tinted horn comb, autumn leaves, c. 1905: $393 I am not sure if any of them were signed, but the art nouveau pieces reminded me of Elizabeth Bonte.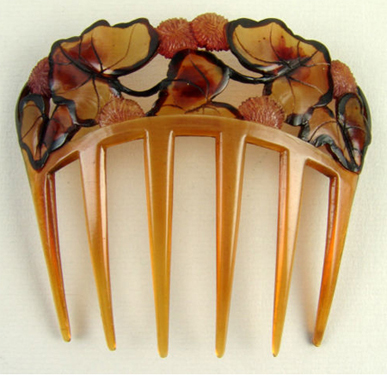 Magnificent French seed-pearl tiara hinged onto a horn comb: $362.88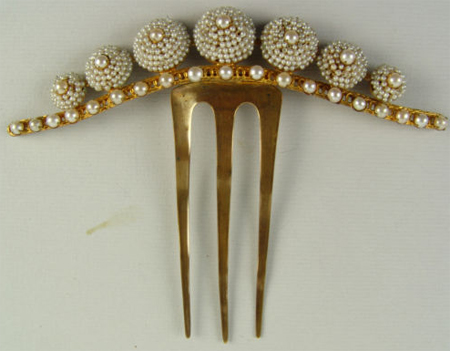 Three brass thistles decorate a horn comb, c. 1905: $150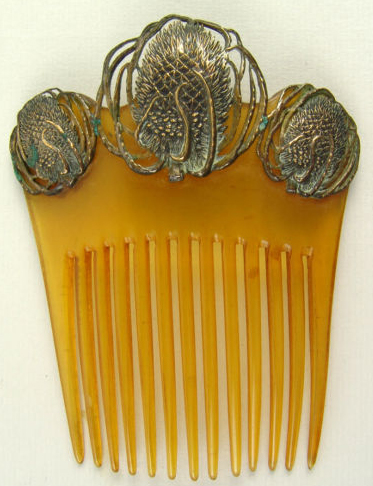 Two tinted horn combs, which might be Elizabeth Bonte. One with red flowers ($275), the other with two dragonflies facing each other ($190.50). The dragonflies' legs are elongated to make the tines of the comb. This is the same idea Lalique used in his famous Two Swallows with a Stalk of Oats.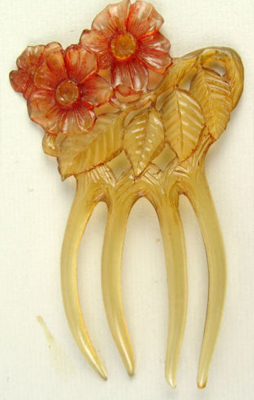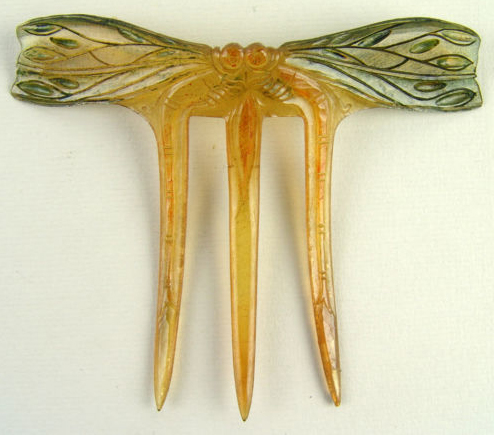 There was also a beautiful art nouveau comb with chrysanthemums, a favorite flower of the Japanese ($225.49).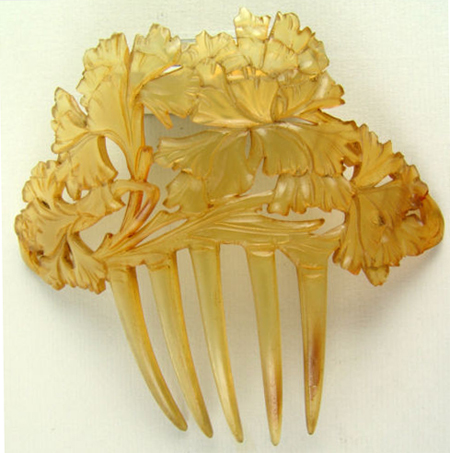 This comb was a Victorian tortoiseshell back comb with paste stones, but the blue and green colors were beautiful ($273).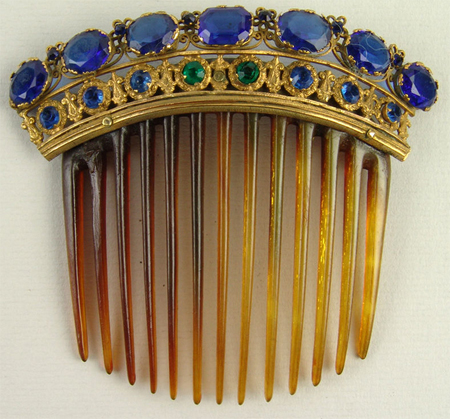 There was also a greek key pattern hand piqued into a tiara hinged onto a tortoiseshell comb, c. 1870 ($148):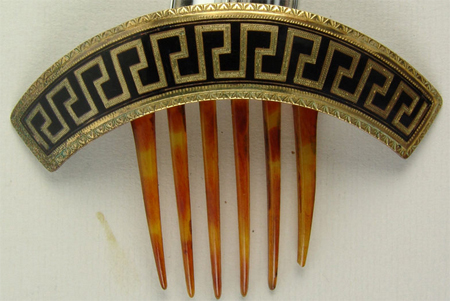 Do you think this hair pin on almost transparent blonde tortoiseshell was made of real diamonds? ($166.38)

This ivory hair pin with a woman figure on it was also beautiful ($161), as was this ivory snake comb ($145).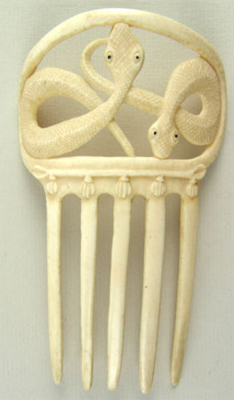 There were two Victorian blonde tortoiseshell combs, which sold for $71 and $46, respectively.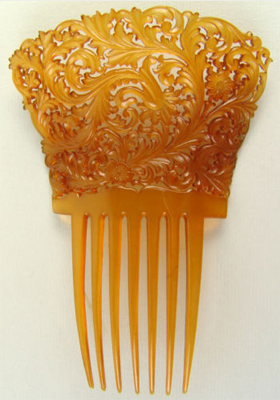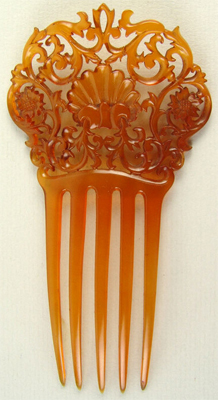 A gorgeous Bonaz rounded out the auction ($170.39)