By Jen Cruse:
The answer is, obviously sometimes!
This delightful small handbag (purse) cased comb dates from the 1920-30s, a popular accessory for smart ladies of the Art Deco period.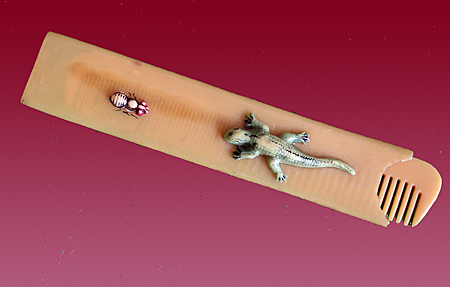 The case and comb are made from an opaque cream celluloid and the case is embellished with a small lizard and even smaller ant, both appliquéd to the surface.
The significance of the two creatures is obscure for such a personal item. However, my research has revealed the following:
In ancient Egyptian and Greek symbolism, a lizard represented divine wisdom and good fortune, yet in Christianity, it was regarded as evil and the devil; in Roman mythology the lizard was supposed to sleep through the winter and so symbolised death and resurrection, whilst the lizard Tarrotarro was seen as an aboriginal Australian culture hero.
The ant was considered to be the motif of industriousness; in Chinese mythology it was the 'righteous insect', one of orderliness, virtue, patriotism and subordination; the Greeks attributed the ant to Ceres, and in Hindu mythology it was the transitoriness of existence.
I'm not sure that any one of these interpretations solves the mystery of such creatures being used as embellishments on hair accessories, but I let the readers draw their own conclusions.
The cased comb is in good condition despite its 75 odd years. The comb, with both coarse and fine teeth, measures 4 ins (10.2 cm) by ¾ ins (1.9 cm), a neat object for an evening bag or purse.
कंघी
For more scholarly research, please examine
You may also study the website of the Antique Comb Collectors Club.