When Alexander Calder was a young man, he worked as a fireman in a ship's boiler room. While the ship was anchored off the Guatemalan coast, he woke up on deck to see one side of the sky pink and orange with a rising sun, and the other side blue with a falling moon.
Having experienced this serendipitous wonder, he naturally embraced Surrealist philosophy, which is grounded in unexpected juxtapositions. He remained a leader in this movement until his death.
In addition to the mobiles and stabiles that made him famous, Calder also created 1800 pieces of jewelry. He started making jewelry at age 10 for his sister's dolls, using wire he found in the streets. However by the late 1930's and '40's, his Surrealist ideas created jewelry sculptures. Among them were combs and tiaras.
He used wire or brass left over from his sculptures to make gifts for friends, such as Peggy Guggenheim, Georgia O'Keeffe, his wife Louisa (grandniece of Henry James), and the wives of Marcel Duchamp and Marc Chagall. During WWII, metal was scarce so he didn't waste any. However, his wire was wrapped, not soldered.
Here is a collection of Calder's hair ornaments. The identification key can be found at the bottom of this post: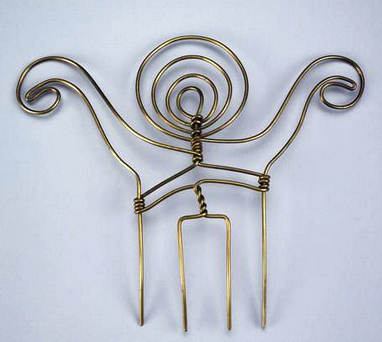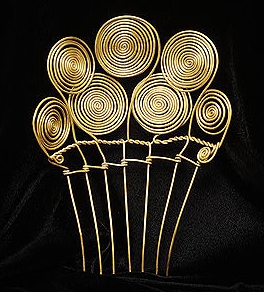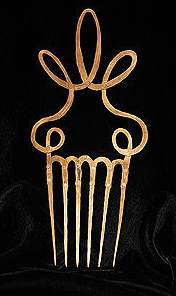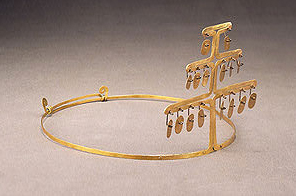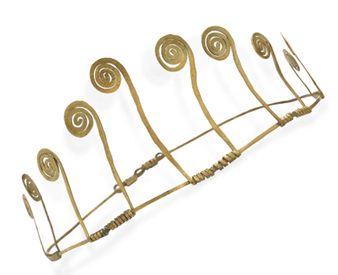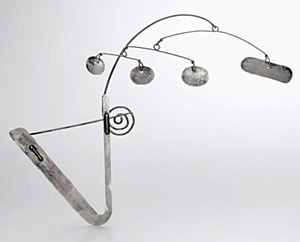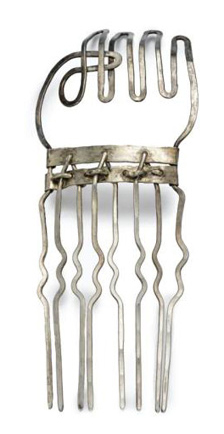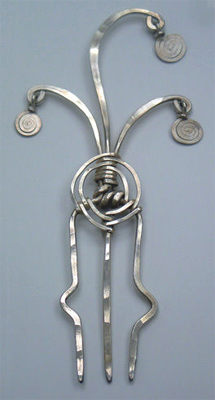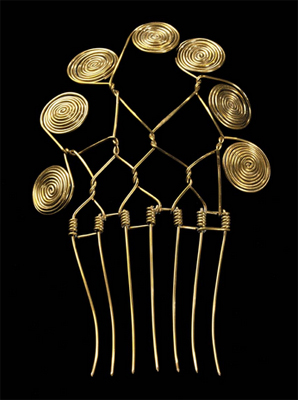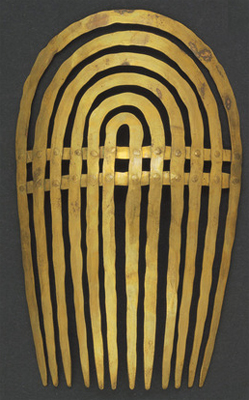 कंघी
For more scholarly research, please examine these books, which have been added to our Resource Library.
Jewelry Identification Key: 1: from The Memorial Gallery of Art, Rochester, NY. not dated. 2: a comb made of brass wire, c. 1940, The Calder Foundation, NY. 3: another comb made of brass wire, c. 1940, The Calder Foundation, NY. 4: tiara made from brass and steel wire, c. 1940, The Calder Foundation, NY. 5: Brass tiara. Sir Kenneth Clark purchased the piece for his wife at the Freddy Mayor Gallery in England in 1938. 6: John and Ruth Boland acquired this brooch/barrette at the Paris Exhibition in Washington, D.C. in 1944. It sold for $192,000 at Sotheby's in 2006. 7: From the estate of Francis J. Whitney, Calder made this comb in 1948. It sold at Sotheby's for $57,000 in 2009. 8: Called the Andalusian comb, this silver piece is available at The Pace Gallery in New York. Price upon inquiry. 9: This gilded brass comb was a gift from Mr. and Mrs. Alexander Calder to the Smithsonian American Art Museum in 1968. 10: Made of hammered brass before 1943, Calder gifted this comb to the Museum of Modern Art in NY.