Manuel Orazi (b. Rome, 1860) illustrated books and posters in France from 1884 until his death. In 1895, he illustrated "Aphrodite," by Pierre Louÿs and achieved notoriety with his grotesque, occult drawings for Austin De Croze's Calendrier Magique. Production was halted at 777 copies, giving the Calendrier further cult status.
In 1921, he designed the sets for the silent-film adaptation of Pierre Benoit's book, "L'Atlantide," where two French officers become lost in the Sahara and meet the immortal queen of Atlantis, Antinéa. Pictured is French actress Stacia Napierkowska in her Antinéa costume next to the poster Orazi created to publicize the movie.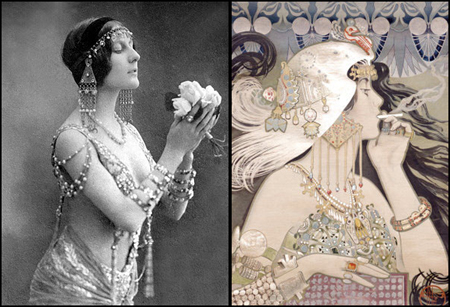 But of course, in between calendars and movie sets, he also made hair combs.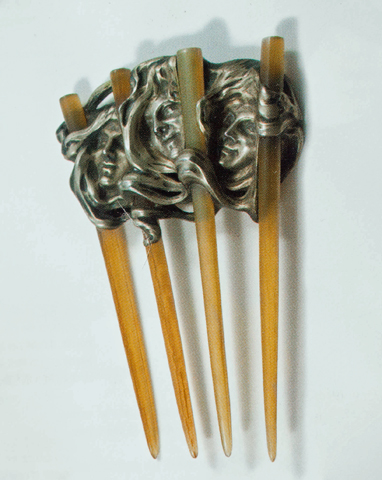 The idea of three women transforming out of silver, as it luxuriatingly binds 4 independent clarified horn tines incorporates Art Nouveau ideas with a modernist design way ahead of its time.
Ozari's jewelry, including this piece, was shown in L'Maison Moderne c. 1902, alongside work by Toulouse-Lautrec and Louis Comfort Tiffany. Orazi's most famous poster, The Lady in Blue, advertised the gallery. At the center is a woman with a small side comb and an elaborate back comb decorating her blue scarf.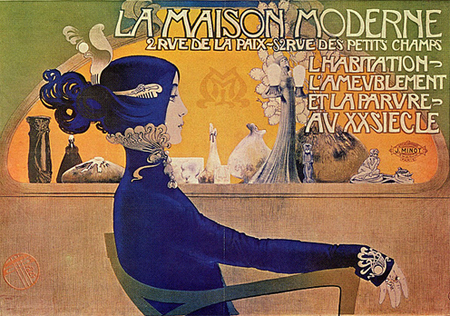 The artist died in Paris in 1934.
कंघी
For more scholarly research, please examine