Garnets are semi-precious gemstones of the silicate (quartz) group of minerals, found in metamorphic rock in a variety of colours. They have been known since the Bronze Age not only as gemstones but also for their abrasive qualities. The gemstone variety has a rich transparent lustre while opaque garnets are used to this day as industrial abrasives.
The garnet takes its name from the fruit of the pomegranate, the principal stone being a rich crimson red. Most garnets come from mines in the Mount Kosakov area of Bohemia and were frequently used in jewellery by the early Egyptians, Greeks, Romans and Celts. Bohemian garnets were very popular during the Victorian era as embellishments for combs and hairpins, often foil-backed to enhance their colour and reflective qualities. Sometimes garnets were polished en cabochon but more usually they were cut and faceted.
The garnet is found in several different colours, but the red variety is the most popular stone for setting in jewellery, ranging in colour from a medium red to a very dark red. Although some may appear to be almost black in colour, garnets sparkle with a rich crimson glow when viewed in bright light. On occasions, the term "Bohemian ruby" is mistakenly thought to be an actual ruby but is, in fact, a garnet, the birthstone for January.
This garnet comb is a tortoiseshell backcomb with silver gilt heading. The surface is engraved with Renaissance-style scrolling designs and set with large- and small-faceted garnets and 3 small pearls. English 1840-60. L = 3½ ins (8.9 cm); W = 3¼ ins (8.2 cm).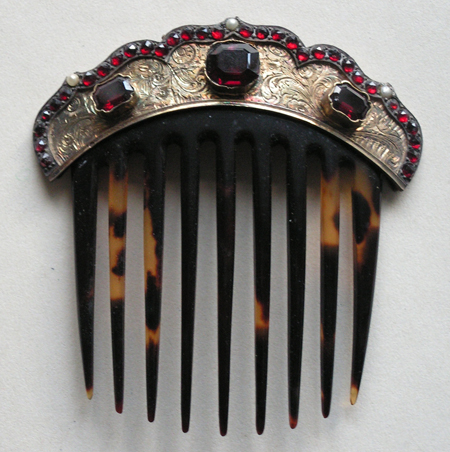 कंघी
For more scholarly research, please see the The Antique Comb Collectors Club and