(Para este tema, The Creative Museum escribe en español. An English translation can be found in the first comment.)
कंघी
En la cultura española, hay un elemento de arraigada tradición que es el uso de la peineta. Este ornamento femenino para el cabello consta de un cuerpo convexo y un conjunto de púas que se encajan sobre el moño. Pero sobretodo, es el complemento indispensable para lucir de forma elegante la mantilla.
La mantilla es una prenda que se luce en muchos tipos de actos y hoy todavía se utiliza con la peineta en algunas celebraciones como bodas de gala, procesiones de Semana Santa, funerales o corridas de toros. Aquí está la reina Sofía de España usando una peineta y mantilla en el funeral del Papa Juan Pablo II, el 08 de abril 2005.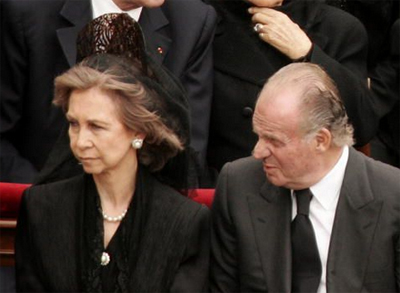 La peineta española es notable por su diseño muy elaborado y por su tamaño impresionante. Las peinetas altas pueden alcanzar unos 30 o 40 centímetros. En este caso, son más difíciles de llevar que las más cortas o bajas. Se elige la peineta acorde a la altura y la del acompañante. En todo caso, hay que ajustarla bien al moño y cubrirla de forma correcta y bien equilibrada con la mantilla.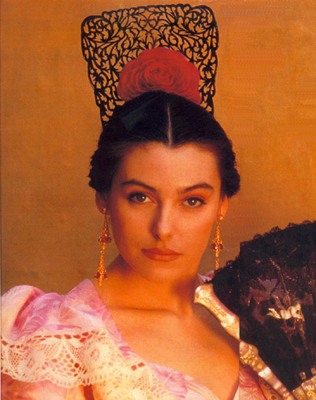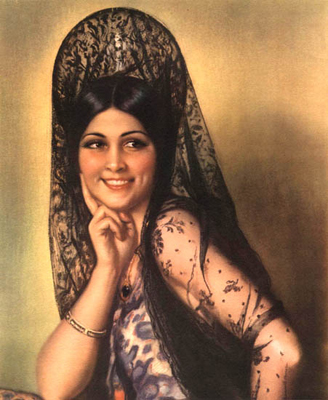 Las hay de muchos tipos de material, una de las mejores son las de carey. Pero hoy, salen caro y se encuentran poco en el mercado de antiguëdades.
Su origen se remonta a muchos siglos pero, se sabe que en el siglo XIX, la reina Isabel II (1833-1868), muy aficionada al uso de tocados y diademas, empezó a popularizar su uso, costumbre que pronto adoptaron las mujeres más cercanas a ella. Las damas cortesanas y de altos estratos sociales, comenzaron a utilizar esta prenda en diversos actos sociales, lo que contribuyó, en gran medida, a darle un aire distinguido, tal y como ha llegado a nuestros días.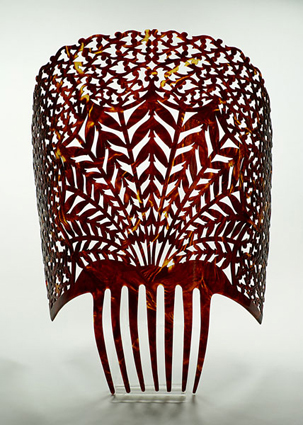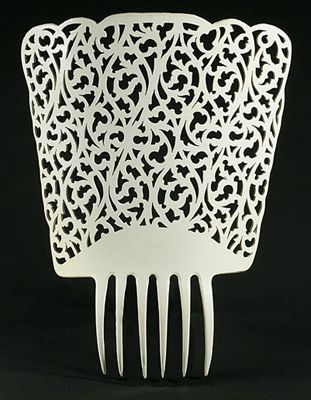 Hoy su uso es muy limitado y poco generalizado; se encuentra sobretodo en el sur de España, en Andalucía, especialmente en Sevilla.
El Creative Museum tiene una collección de aproximadamente veinte piezas bellisímas.
कंघी
For more scholarly research, please examine the publications of The Creative Museum and this book on the peinetas of Argentina, which can be found in our Resource Library. You can also buy a white peineta and mantilla to celebrate the Spanish style.