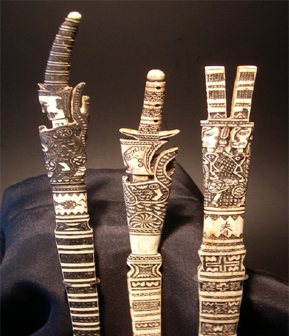 The Li ethnic minority lives mainly in the center and south of Hainan Province. According to historical records, they have been on Hainan Island for over 3000 years. The Li people have the earliest weaving techniques in Chinese history. They are skilled in spinning and weaving silk cotton. Today, their traditional clothing is only worn at festivals or ceremonies.
Hair pins were favorites of men when they presented gifts to their lovers, and women often took them as tokens of love for their boyfriends. China's ethnic minorities have a tradition of using hair pins to fix up their hair. The hair pins are of diversified varieties with long histories, rich national features and cultural implications.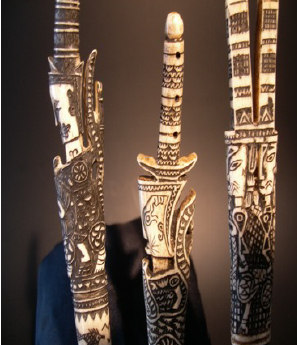 In Hainan, Li women wear a decoration where they once carried a weapon. This is called a "virgin's hair dress." The incised ox rib is an adoption from the blade which women once wore to protect their honor. Ornamental patterns like waves, fish, flowers, fruits, and geometric designs cover the pins.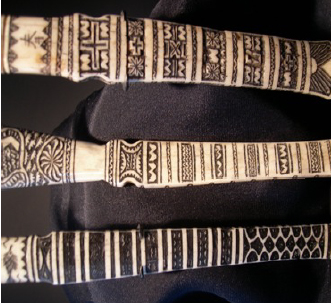 These pins are made by craftsmen using ox or other long gently curved white bones, which are polished, then carved. Lampblack and melted beeswax are used to make the pattern stand out against the white bone. The decoration on top is a helmet, turban or hair that is coiled. Then the bone ornament is adorned with either one or two heads, and the body extends to the feet or the end of the pin.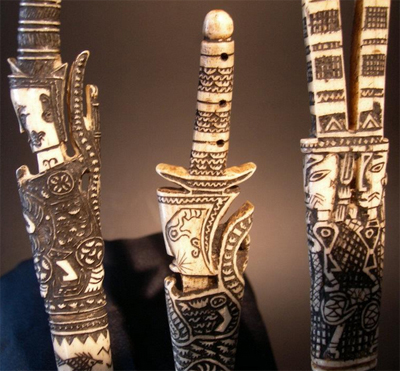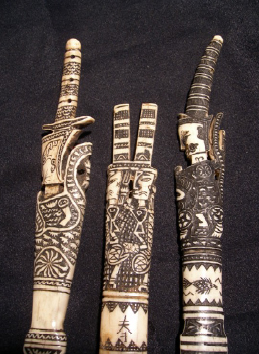 The hair pins that are very delicately carved into the shape of a human being are said to represent a warrior ancestor and tribal leader protecting his people. The beautiful incised bone pin is inserted in a typical "Run-Style Hair," worn in a bun, by Run-dialect-speaking women. When the women marry, they wear numerous hair pins depicting their ancestors to bring good luck and blessings.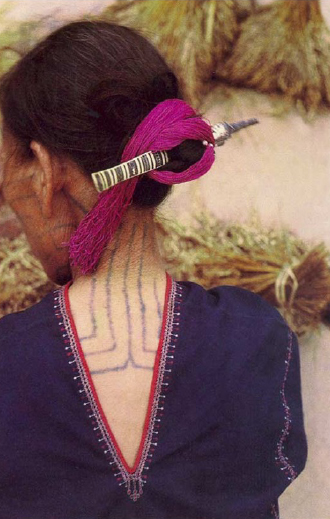 कंघी
For more scholarly research, please examine these books, which have been added to our Resource Library.