Sotheby's is selling two combs by Georges Fouquet. One is a piece with different fittings, enabling the wearer to choose whether she wants a pendant, brooch, or comb, and the other is made of tortoiseshell. Final sale prices have been posted.
For our first piece, fan-shaped green, black, and white enamel lotuses elaborate a turquoise frame. The center jewel is a turquoise cabocohon, on top of which is a triangular opal. The piece is edged by diamonds and set in 18K gold, c. 1910. Signed signed G. Fouquet, # 2349. It comes in its original rose-colored leather, silk and velvet box, which is also signed G. Fouquet, 6. Rue Royale, Paris. Price estimate: $60,000 – $80,000. Sale price: $74,500.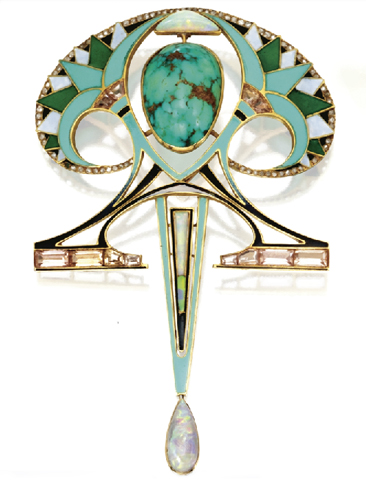 On the second comb, look at the translucence in the blonde tortoiseshell. The artist chose an Egyptian theme by carving lotus and papyrus designs. Dotted by opals and accented with black and green enamel, the comb is signed G. Fouquet, #4680. It also comes in its original box. c. 1905 – 1908. Price estimate: $10,000 – $15,000. Sale price: $22,500.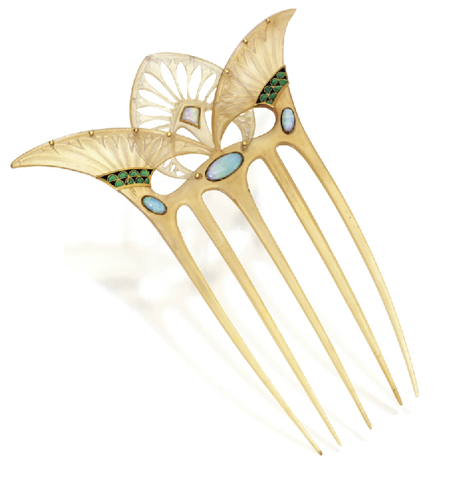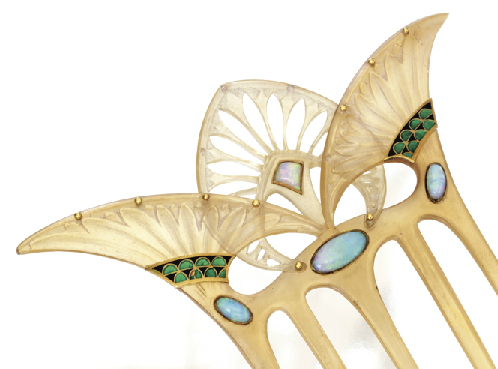 कंघी
For more scholarly research, please examine these books, which can be found in our Resource Library.