Aron Wiesenfeld: The Crown
Born in 1972, Aron Wiesenfeld had his first solo exhibition at the Timmons Gallery in San Diego in 2007. He paints enigmatic, lonely people in empty spaces, making the viewer imagine an unseen backstory. He writes, "If something is going on behind the surface, people are drawn to it but don't know why. They've connected to something in it. And that is a constant theme through my work, the ability to paint something to suggest something that isn't shown."
In "The Crown," he draws a woman wearing a crown of candles without feeling the flames. Indeed, the smoke gives her a royal height. Do you think she looking inward, or at someone?
Mr. Wiesenfeld says his figures "are refugees, pilgrims, and wanderers, trying to get to the other side of a river that is forever out of reach. I think they are answering a call that is not consciously understandable, but resonates somewhere inside them. It draws them to a place they forgot that they knew about, something like a return to Eden."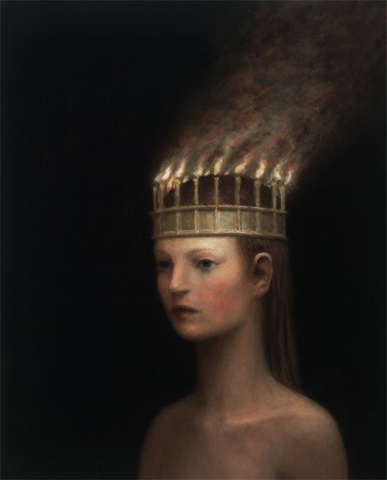 कंघी
For more scholarly research, please examine aronwiesenfeld.com.