The process of producing rolled gold, invented in Birmingham in 1785 by a London manufacturer, was known as gold plating until the 1840s, when electro-gilding methods were introduced. Rolled gold is produced by fusing a thin layer of gold alloy over a base metal, or more often, over a brass or copper alloy. It is then rolled out into sheets of varying thicknesses, depending on the intended use. Rolled gold wire is extruded by enclosing a metal core inside a rolled gold tube and drawing it out to a desired diameter, in either a solid or hollow state.
Rolled gold is often marked RG indicating its authenticity, and is sometimes qualified by a figure to show which carat gold has been selected. In the USA in the 1870s, a double form of rolled gold was introduced, particularly for making pocket-watch cases. Termed gold-filled or rolled gold plate, it was simply a base metal with a gold alloy soldered to both sides.
Rolled gold is relatively light in weight, a property which helps to identify it. It was considered to be a form of embellishment that produced the same effect as solid gold. When applied as a decorative material, it offered a lighter and less expensive alternative.
These three hairpins have coiled rolled-gold headings with attached tines of blonde tortoiseshell (2) and brass (1). British 1870-90. Between 4 & 5 inches (10 –12.5 cm) in length.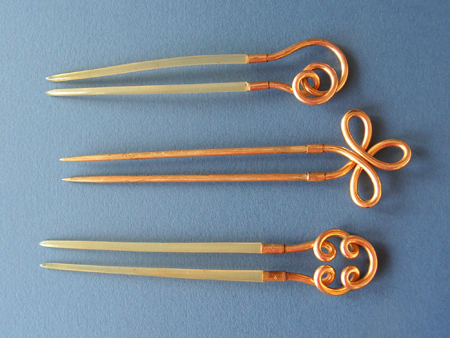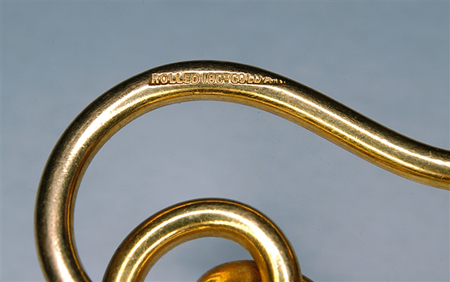 कंघी
You may also examine the website of the Antique Comb Collectors Club.