Japanese women's hairstyles became works of art during the Edo period (1603-1868). Lush ornamentation with kushi- and kogai-stick sets, accompanied by kanzashi followed. Only rulers, samurai clans, and other aristocratic families had mon, or crests to indicate their status. In the Meiji period (1868-1912), common families were allowed to obtain mon.
Tama is a type of kanzashi, which usually has a red or green ball. However, Meiji families also substituted their crests, or artists carved familiar cultural themes. Ivory and tortoiseshell kanzashi sticks could be as intricate as the featured decoration. Metal sticks could be used as weapons.
From the Okazaki Collection comes this group of brass kanzashi. They feature objects, which express Japanese culture: a lantern, water buckets, an instrument, carp, and a bird looking at a cherry blossom.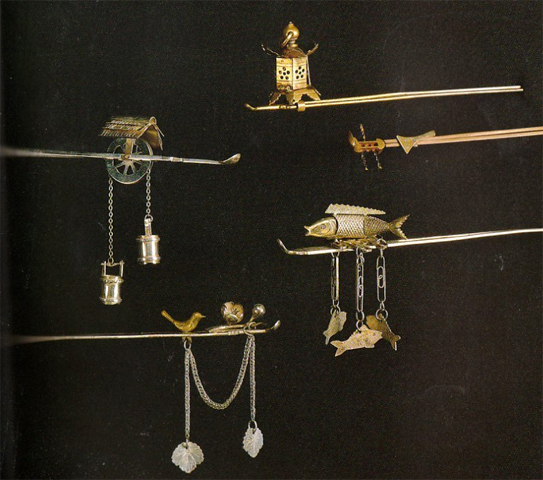 The Creative Museum has just obtained this magnificent Meiji ivory tama kanzashi with a family crest. The flower has a stone, and the stick is painted. It comes in the original box.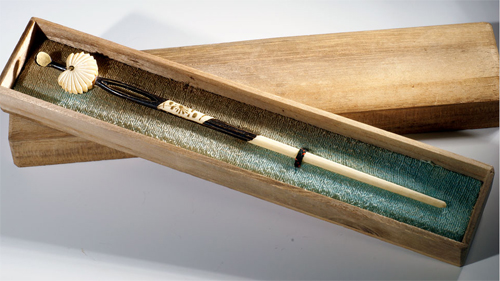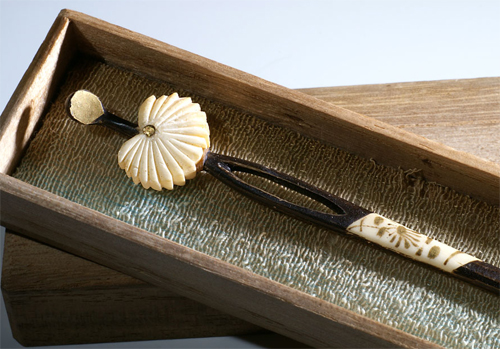 The ivory kanzashi of the the crescent moon with coral buds and the bird with two beads on a painted stick belong to Miriam Slater. The geisha in the center is mine.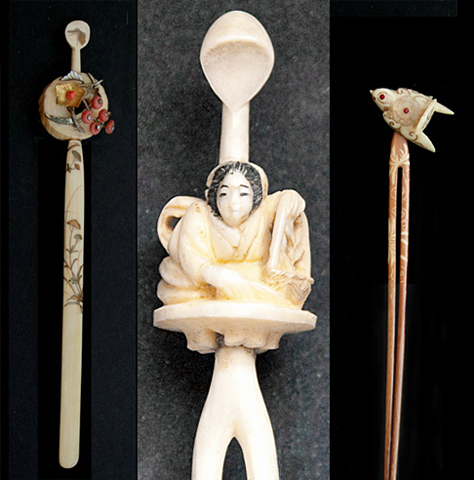 From tama, we can travel back in time and imagine what life must have been like in Meiji Japan: the animals and flowers they loved, what people ate, their technology, and the music they played. It must have been a wonderful world.
कंघी
For more scholarly research, please examine The Creative Museum's exhibition Chine et Japon: A Fleur de Tete and Okazaki Collection: Combs and Ornamental Hairpins (Japanese Edition)